The World Press Photo Awards isn't the only prestigious photo competition that experienced controversy this year: the 2017 Sony World Photography Awards received at least one complaint of plagiarism by a photo selected for the Open competition shortlist.
When the shortlist galleries were picked and announced from 105,000 entries in late February, one of the photographers selected was Romanian artist Alex Andriesi, who's based in France. His composited photo of a girl floating with large colorful balls was chosen for the "Enhanced" category.
Shortly after the announcement, Portugal-based photographer Anka Zhuravleva took to her social media channels to accuse Andriesi of plagiarizing her work, pointing out that his shortlisted photo has many similarities to one of her images from 2011, which shows a young lady floating with orange balls in a hallway while wearing a blue dress: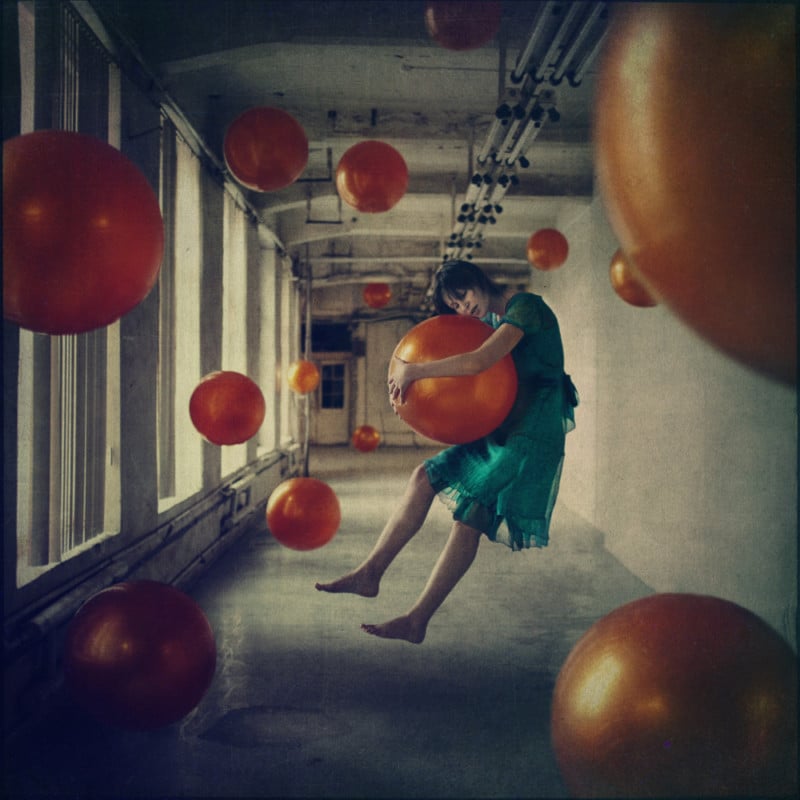 Here's what Zhuravleva posted:
The posts got hundreds of shares through social media, and soon the World Photography Organisation left a comment responding to the accusation.
"In this instance Alex Andriesi has provided documents that support his statement that he has not plagiarised the work of any other artist and his influence was taken from elsewhere," the organization writes. "Ultimately whilst we recognise the similarity between the images it is essential to point out that accusations of plagiarism have to have more than coincidence and that doubt is not proof of plagiarism."
"The documents provided to us by Mr Andriesi certainly support his claim."
Andriesi showed PetaPixel the video that he submitted to the WPO. In it, Andriesi states that his inspiration for the photo actually came from a movie scene that struck him — a scene involving a young girl holding balloons. Conceptual sketches show how the idea purportedly evolved from the girl lying on top of a large ball to the final photo of the girl floating to the side of the ball.
Andriesi shared the video with us on the condition that it not be shared with the public.
"I do not want to publish this video there for fear that it creates a big debate that's not nice," Andriesi says. "I'm also afraid that Anka's tight-knit community may view the video as retaliation."
He feels that the mob mentality of the Internet has already rushed to judgement.
"I would never have any bad intentions toward an artist," Andreisi says in the video. "I think my photographs will no longer have credibility on the Web for a while. I say that with a heavy heart. I want to avoid drama at all costs."
Zhuravleva says she's still not happy with the response to her accusations.
"I'd like to have a look to the source of his inspiration first," she tells PetaPixel. "Until I see it with my own eyes I will not believe. But even if so, the WPO's response still sounds weird. Like, 'No, he didn't copy you, he copied someone else. So do not worry.'"
"For me, it's not only a question of a personal moral damage," she continues. "I got used to being copied and most of the time I just let it pass. But this case is quite public and it will possibly create a precedent."
This past week, a month after the shortlist was unveiled, the 10 winning photos of the 2017 Sony World Photography Awards Open contest were announced, and Andreisi's photo was not among them.