Nikon's stock price fell nearly 15% today after the company revealed yesterday that it was hit with an "extraordinary loss" during the last 9 months of 2016.
During that period, Nikon saw losses of ¥29.79 billion, or about $260 million, mainly coming from restructuring costs and from Nikon's Semiconductor Lithography business.
Here's the "Notice of Recognition of Extraordinary Loss" released by Nikon yesterday:
The camera brand also made the surprising announcement that it's killing off its high-end DL line of compact cameras. The trio was originally announced back in February 2016, but apparently development costs and sales forecasts convinced Nikon to shutter the new cameras to improve the company's financial outlook.
Investors were spooked by these latest developments, and today Nikon's stock plummeted 14.6%. Nikon's market capitalization fell from ¥754.8 billion (~$6.6 billion) to ¥644.6 billion (~$5.6 billion), meaning about $1 billion in value was erased in a single day.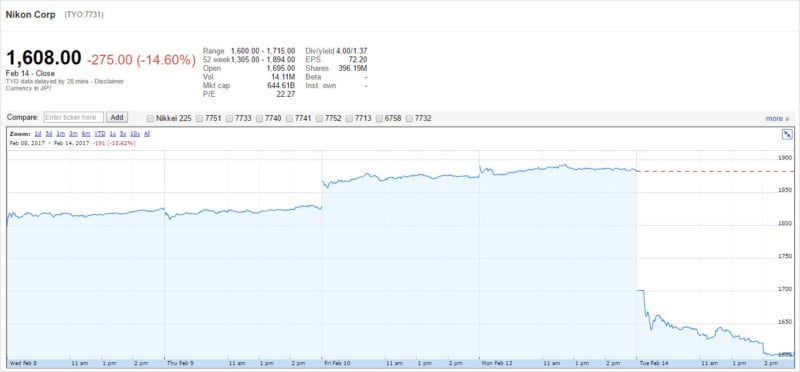 At least on the business side of things, bad news appears to keep mounting for Nikon: it was just in November 2016 that Nikon announced plans to trim its headcount by 1,000 employees through a "voluntary retirement" program.
Nikon is going to great efforts right now to refocus its vision and restructure its company to focus on profits rather than revenue, but whether or not the changes help turn its fortunes around remains to be seen.