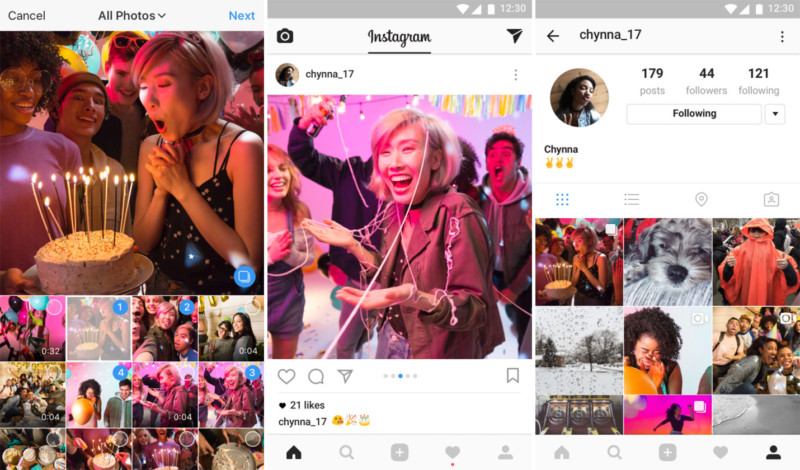 After doing some testing of the feature earlier this month, Instagram has officially rolled out multiple photo posts. Starting today, you can post up to 10 photos (or videos) in a single post on your Instagram profile, and the app will generate an interactive slide-show for your followers to enjoy.
The feature is pretty straight forward. In Instagram version 10.9, when you go to upload an image from your camera roll, a small icon above and to the right of your photo picker will let you switch to a multi-photo post:
Once you click that icon, you can select up to 10 photos or videos to post together in a single Instagram post. Images can be rearranged and filtered as-needed (individually or all at once) in the editing screen and then posted to your account where they'll appear with an icon indicating it's a multi-photo post. For now, you're limited to square crops and one caption for the whole slideshow.
Once someone clicks though, or if they stumble across your image while they scroll, they'll be able to swipe through the full collection right in their feed, as indicated by the blue dots at the bottom of the picture.
Here's a quick video intro that shows you exactly how it works:
Some will no doubt see this as yet another departure from Instagram's roots, but the Facebook-owned company doesn't see it that way.
"Share your favorite moments of your best friend's surprise birthday party, from setting up to when they walk through the door. Or create a step-by-step cake recipe that people can always find on your profile," writes Instagram, imagining the different ways Instagram users will take advantage of the new feature. "From stories to live video to posts in feed, it's never been easier to share your experiences with your friends."
To learn more about the feature, head over to the Instagram blog. Or, if you'd like to jump right in, update the Instagram app or download a fresh copy of version 10.9 from the iTunes App Store or Google Play.