Fans of the movie La La Land will love this creative engagement shoot. In a tribute to Hollywood romance and the romance between bride-to-be Ellen Wleklinski and her betrothed Corey Collins, photographer Marlies Hartmann recreated some of the Oscar-nominated movie's most popular scenes in real life.
The idea came to Hartmann after Ellen suggested doing their engagement photos at Griffith Observatory. Hartmann had just seen La La Land and thought the couple would be the perfect real-world representation of the movie's main characters Mia and Sebastian, played by Emma Stone and Ryan Gosling.
"I figured another photographer had probably beat me to the idea and already recreated something similar, but after searching online I couldn't find anything of the sort," she tells PetaPixel. "I knew at that moment that Ellen and Corey would be perfect to bring such a beautiful love story to life!"
Hartmann was initially hesitant to suggest the idea to the couple—"I wasn't sure if they had seen or even liked the movie," she told us—but when she did, both Ellen and Corey loved it.
"We knew that our goal was to recreate and evoke the energy and feeling from the film as well as portray the images as if the characters had indeed gotten their 'Hollywood' happily-ever-after ending we all hoped for when watching the movie," Hartmann tells us.
Fortunately for her, the couple's natural chemistry (and Ellen's surprisingly accurate wardrobe…) made sure Hartmann was able to nail this photo shoot, capturing that very energy and feeling she was after.
Not that the engagement shoot went off without any hiccups.
"Our original plan was to shoot the entire thing in one day, but on our way to the shoot my car literally broke down," Hartmann explains. This forced Hartmann to split a one-day shoot into two. Then, on their way to the famous Cathy's Corner where the movie's main dance number was shot, they realized they would have to hike the final 2 miles to get there.
"[The hike] wouldn't have been possible with our Profoto B1, beauty dish, and stand/weight/sandbag, along with our photography gear," says Hartmann. "So we went with our plan B and drove over to the Hollywood Bowl Overlook and quickly set up there just in time for blue hour."
Here's a look at some of our favorite shots from the final engagement shoot. A beautiful tribute to love… and Hollywood: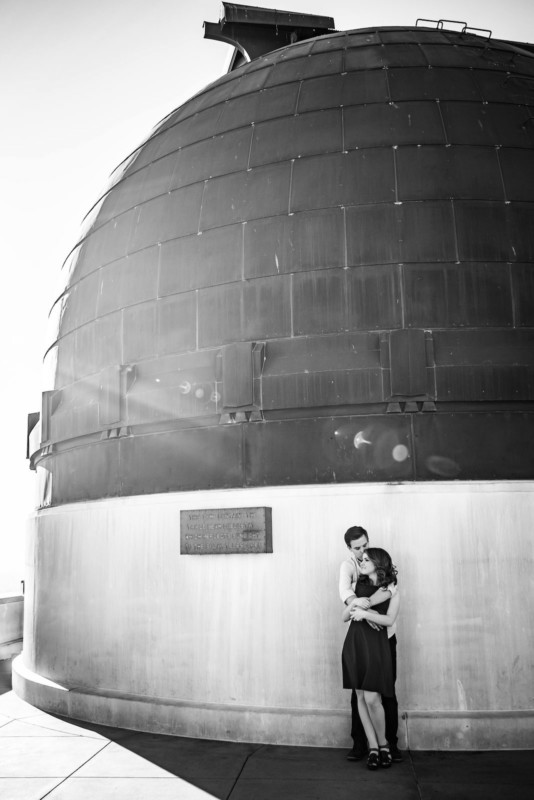 Hartmann used her two Canon 5D Mark IIIs, a Nikon D810 for the night shots, and a variety of glass including a Canon 70-200 f/2.8, Sigma 24-35mm f/2.0 Art, and Sigma 50mm f/1.4 Art. Most of the shots were captured wide open "to keep the magical feel of the film," says Hartmann.
To see more of Hartmann's work, including more shots from this beautiful themed photo shoot, head over to her website or give Marlies a follow on Instagram and Facebook.
(via Huffington Post)
---
Image credits: All photographs by Marlies Hartmann/M. Hart Photography and used with permission.