Ever since the advent of digital cameras, some film photographers have dreamed of having a way to convert their beloved film cameras into digital ones. Photographer Robin Guymer took matters into his own hands: using his knowledge of electronics, he converted a Sony NEX-3 mirrorless camera into a digital back for his film Nikon FE SLR camera.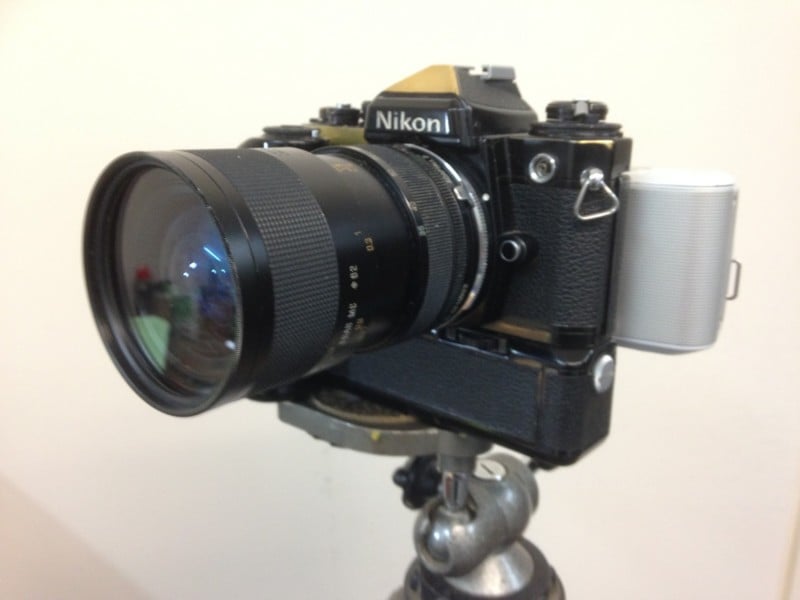 To create his "electronic film," as he calls it, Guymer stripped down a Sony NEX-3 to just his needed components (and exposing the sensor) and then fused the camera to the film door of a Nikon FE. This allows the Sony digital sensor to sit at the same plane as ordinary 35mm film when attached to the Nikon SLR.
Guymer then sets the Sony NEX-3 to capture 5 second exposures and sets the ISO setting on both the digital and film cameras to ISO 800.
To shoot a photo, Guymer triggers the 5 second exposure on the Sony and then snaps a photo using the Nikon. Even though the Sony is capturing a 5 second exposure, it only receives as much light as the Nikon camera lets through.
Here's a sample photo captured using this do-it-yourself digital back:
A neat aspect of this project is that it doesn't require any destruction of the Nikon SLR. To use it as a film camera again, you simply remove the Sony digital back and install the standard film door. You can also easily switch between shooting normal digital photos and infrared ones by installing or removing the IR filter over the Sony sensor.
Here's a 9-minute video in which Guymer shows his Sony NEX-3 digital back and demonstrates how it works:
If you're interested in trying this project yourself, here's a 15-minute walkthrough showing how you can do so (Guymer also set up a website with the info):
"I couldn't be happier with the way the camera works and the quality of the photos," Guymer writes. "When I started the project I was pretty sure it would take good photos but I never expected Live View or Movie to work so well. The action of triggering the Nex before the Nikon is something I am getting used to."
You can find more of Guymer's work on his website and YouTube channel.