Drone sweaters exist. We'll give you a second to glance at your calendar and remember that it's January, not April, before moving on … okay, welcome back to our strange reality where drone sweaters are an odd and oddly stylish reality.
Do a little digging, and you'll find that this project—which seems, for all the world, like a very elaborate troll on overprotective drone owners—was created by San Francisco-based designer Danielle Baskin.
But while it might seem like a troll, it really isn't. Instead, it's part of Danielle's "Company Every Week" project for which she's launching a new experimental product, service, or concept every Friday. Other equally strange (and equally real) services she's created include: Custom Avocados, Touch Pluto, and #physicalcloud.
But while custom avocados and a physical "cloud storage system" probably won't appeal to photographers, aerial shooters might find themselves drawn to Baskin's silly drone sweaters: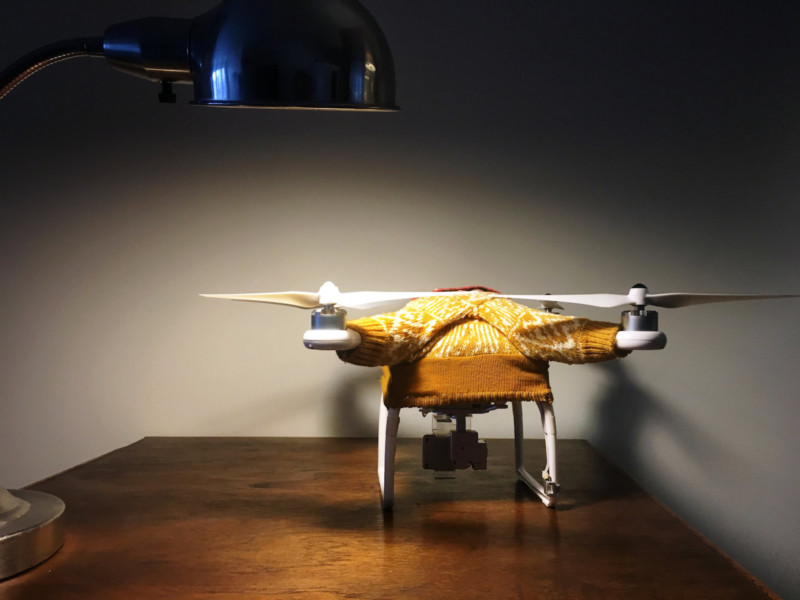 The website—which sells custom-made drone sweaters for $190 a pop—is full of fun tidbits like this:
While this may at first appear to be a light concern to those who would scoff at the idea of dressing a drone, there are still many drone owners who have seen their drones shiver violently after exposure to winter temperatures but hesitate to put clothing on their drones for fear of appearing odd.

[…]

A sweater can make a significant difference in your drone's feeling of well-being.

[…]

It almost goes without saying, but we will mention it anyway, drones cannot, or should not, wear pants — only sweaters and jackets.
DroneSweaters.com is good for a laugh … and maybe a bit more. We can't say for sure if the added "warmth" of a custom-tailored sweater will in fact have any real benefits like extended battery life in cold weather, or if a colorful design will make for better visibility, but your drone sweater is sure to be the talk of the photography club.
Check out DroneSweaters.com for more info and a chuckle or two.
(via Fstoppers)