House Republicans have put forward a proposal to fine representatives who shoot photos or videos on the floor of the chamber — a move widely viewed as a response to House Democrats staging a sit-in in June to demand a vote on gun control legislation.
NBC News reports that if the new policy is adopted, lawmakers would be fined up to $2,500 for capturing photos, videos, or audio from the House chamber floor. A first offense would carry a $500 fine, and subsequent offenses would deduct $2,500 from the representatives salary.
"These changes will help ensure that order and decorum are preserved in the House of Representatives so lawmakers can do the people's work," says Speaker Paul Ryan's spokesperson Ashlee Strong.
Back in June 2016, House Democrats decided to stage a protest by sitting on the chamber floor — an event condemned by Republicans as a "publicity stunt." It wasn't initially broadcast to the world since the House wasn't in session, but Representative Scott Peters of California soon began livestreaming the protest using Twitter's Periscope app.
LIVE on #Periscope https://t.co/6eU7Q8OXG3

— Scott Peters (@ScottPetersSD) June 22, 2016
Others shot still frames and shared them with the media. Representative John Yarmuth of Kentucky shot this photo that was distributed through the Associated Press:
Representative Donna Edwards of Maryland also shot a couple of widely published photos: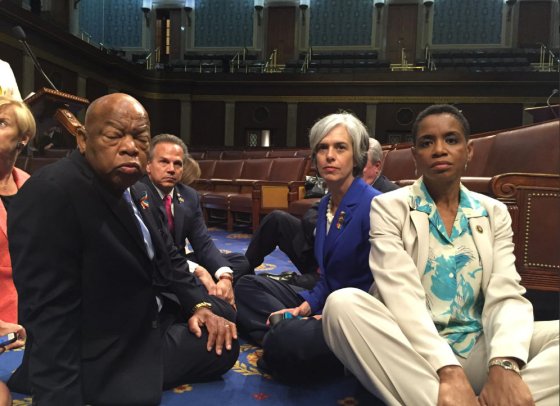 House Democrats were quick to respond to the proposed policy change in Tweets:
Instead of acting on gun violence, @SpeakerRyan and his team move instead to punish those who do. Shame on them. https://t.co/HWKsTH0Q9V

— Adam Schiff (@RepAdamSchiff) December 28, 2016
There is no punishment that will deter me from standing with American families devastated by gun violence. https://t.co/D3pwyMieSN

— Katherine Clark (@RepKClark) December 28, 2016
Proposed fines for House demos are petty & won't work. If that's the price to talk about gun violence, so be it https://t.co/lq2xCSae16

— Chellie Pingree (@chelliepingree) December 28, 2016
.@HouseGOP wants to fine me, @RepBetoORourke & @RepScottPeters for filming #gunviolence sit-in. I'll always stand w/ victims. Bring.It.On.

— Rep. Eric Swalwell (@RepSwalwell) December 26, 2016
In addition to setting fines for photography, the new proposed rules also clarify what behavior is considered disorderly or disruptive on the floor.