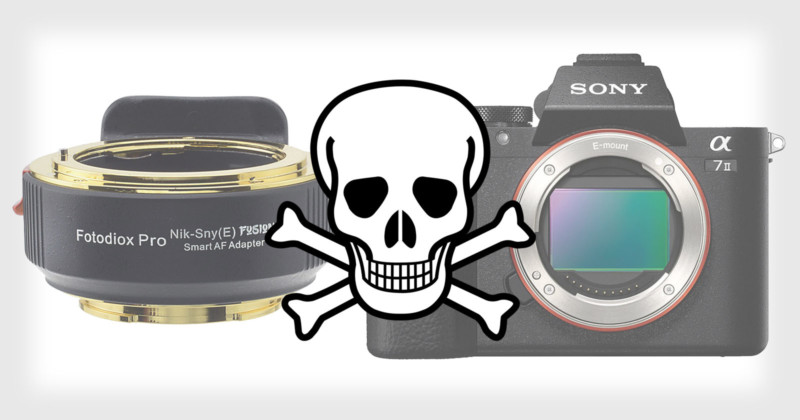 Fotodiox sells a wide range of adapters for using lenses and cameras of different mounts, but one particular adapter is causing a major headache for both photographers and the company. At least two photographers are claiming that their Sony mirrorless camera was ruined by the Fotodiox Fusion SmartAF Nikon to Sony adapter.
The adapter in question is the Fotodiox Fusion SmartAF for adapting Nikon G mount lenses to Sony E mount cameras. Features include full electronic aperture control, EXIF data recording, high speed autofocus, and powered VR stabilization (all for Nikon AF-I and AF-S lenses). The adapter costs $370 from Fotodiox's website.
On November 24th, photographer Jason Lanier published a blog post and video saying that using the adapter on his Sony A6300 broke his camera.
Lanier says that after testing the adapter and finding that it failed to deliver its promised features and draining the battery of his Sony a7R II, he attached it to his A6300, and that's when "the unthinkable happened."
"It fried the camera," Lanier writes. "This is a camera that I've taken all over the world. It's survived all of my adventures and exploits… but it's poor sad end was at the hands of a freaking Fotodiox Adapter. […] It will no longer power on at all."
Yesterday, photographer Eric Rossi published a video reporting that he experienced the exact same problem: the Fotodiox adapter killed his new Sony a7 II.
Fotodiox says it's aware of the reported issue and is investigating to figure out why the adapter is bricking cameras.
"We're still in the process of determining what is happening with this specific adapter/lens combo — Nikon AF-S VR Micro 105mm f/2.8G IF-ED + Fotodiox Nikon to Sony E Mount FUSION adapter — as that is the apparent link between the two incidents," Fotodiox tells PetaPixel. "For now, we advise our customers to avoid that combo until we know more, which should be a matter of a few hours or days."
In the meantime, if you already purchased a FUSION adapter for your camera and are worried about it, Fotodiox says that you're "welcome to return it, no questions asked."