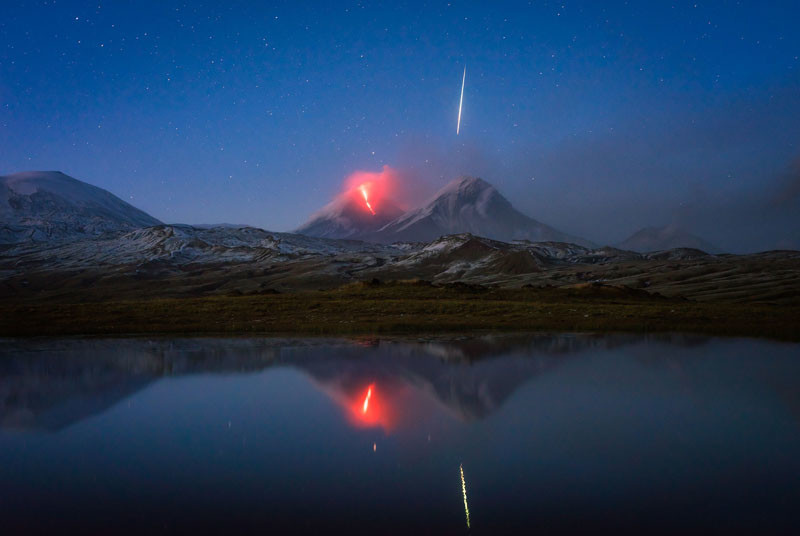 While shooting recently in Kamchatka, Russia, Dutch photographer Tomas van der Weijden captured this remarkable photo of an erupting volcano and a streaking meteor being reflected in a lake.
Van der Weijden has titled the photo "Volcano Magic."
The volcano in the frame is the active Klyuchevskaya Sopka volcano in Kamchatka on the far east side of Russia.
"We had set up camp nearby and hiked out to the small lake to get a good view of the volcano," the photographer tells PetaPixel. "We were extremely lucky with the circumstances (not just the meteor, but clear skies and the active volcano!), as it had been a couple of years since lava streams had erupted from this particular volcano."
On the second night of photographing the eruption, as the sun went down and as the lava flow lit up, a flash appeared in the sky — it was a bright meteor.
"Luckily I was taking 15 second exposures," Van der Weijden says. The long exposure allowed him to unintentionally capture his amazing shot. He was shooting with a Sony a7 II and a 16-35mm f/4 lens at 35mm and ISO 640.
"All in all, it was a very humbling experience to witness these forces of nature – a truly magical moment," he says.
You can find more of Van der Weijden's work on his Facebook, Instagram, and 500px.
---
Image credit: Photograph by Tomas van der Weijden and used with permission