There are unfortunately times when technology just lets us down. It's not always because it inevitably breaks either: sometimes it is simply because every piece of gear has its strengths and weaknesses, and flash triggers are no exception.
Most of the time we simply use a radio trigger to fire our flash heads, but sometimes the shooting environment will cause the radio triggers to fail or at the very least be very inconsistent. Confined spaces with a lot of metalwork or even on locations with chain link fences will cause this annoyance, so you're going to need an alternative way to simultaneously trigger your flash heads if you ever find yourself in this situation.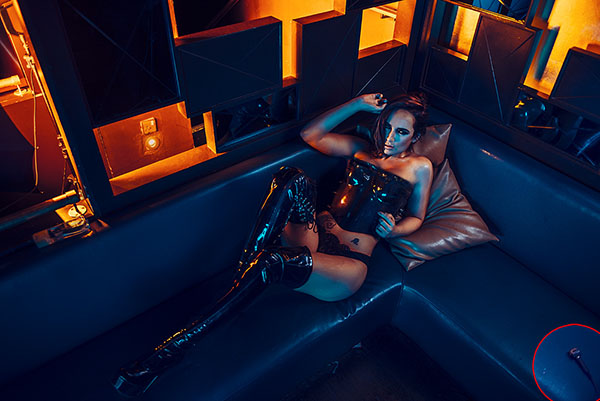 Enter the Optical Slave. I've been carrying a couple of these little guys around in my camera bag for years and every once in while, when my radio triggers are seriously struggling, I'm so pleased I have them with me. Most flash units have an optical slave on-board somewhere — that's the thing that looks out for other flashes going off and then fires its flash when it sees one.
But what happens if the flash you want to fire is positioned somewhere where it cannot see any other flash heads going off? You'll need to attach one of these portable mini optical slaves into the flash head and then position its eye somewhere where it can see the other flashes firing.
Having a couple of portable and independent optical slaves in your bag is perfect for when you have lights in other rooms, around corners or simply just to far away but you need all the lights in a set to fire at the same time. Hook these up to an extension cable and you can put your lights as far away as you like.
For example, in a recent shoot I was photographing a model through a tight doorway with a directional light on her and a colored blue light in the background lighting the scene behind her. The radio triggers weren't working because of the environment and the optical slave on the blue light in the background couldn't see the key light on the model through the doorway. The solution was to plug an optical slave and extension into the back of the blue light and place the optical slave receiver in the doorway behind the model where it would pick up the key light. Success! Now all the lights are firing simultaneously.
Some of the older optical slaves that I have are really efficient but can be a little pricey. I actually had no idea how expensive they'd become until I looked into buying additional ones recently. Hence the reason for this article.
Check out the "Ultraslave" from B&H for a cool $59.95.
You may have noticed that the optical slaves I've shown you so far plug directly into the light, not ideal if you're trying to trigger a distant light. So obviously they're not much good if all you can do is plug them directly into your flash head, you'll want to position them away from the head itself, maybe in another room or corridor so an extension cable will fix that problem.
Because you don't need to worry about maintaining sound quality in any way, you can get away with buying audio extension cables super cheaply. Check this 6-meter-long 1/4″ Extension Cable for about $3!
So What's the Cheap-Skate Option?
Even if the extension cable is practically free this optical slave business is looking stupidly expensive at $60 a pop. Don't worry: I thought the same thing so I found a more cost-effective alternative.
Yes, some of the newer optical slaves are incredibly cheap. No, they aren't quite as good because they are a little more directional in the way they see the incoming light but they're definitely worth picking up just in case you ever them for this price.
I picked up a couple of these from China for less than $8 each. Definitely worth doing.
The key to these little ones is to check that they have some way of connecting to your lights themselves. You should be able to see from the image above that this one has a PC socket. The PC sockets are essentially the traditional method in which most cameras and flashes would connect to one another. Again these cables that connect the optical slave to flash head are incredibly common and I'd be surprised if your flash head didn't have one kicking about at the bottom of its bag somewhere.
If not then you can grab yourself one relatively cheaply as well.
That is pretty much all there is to know about optical slaves. Like I say, you never need one until you do and then they're invaluable in the right situation. So if you ever think you might want to get into location shooting with multiple strobes at the same time then I strongly recommend picking up a couple for your bag.
They're relatively cheap and won't take up much room and I know that when I've needed them I'm so glad I had them on hand.
---
P.S. If you enjoyed this article, you may be interested in learning from one of my workshops. I also release new photography related tips and techniques every week so if you'd like to be kept updated on them all in my monthly newsletter then please feel free to get yourself signed up.
---
About the author: Jake Hicks is an editorial and fashion photographer based in Reading, UK. He specializes in keeping the skill in the camera and not just on the screen. You can find more of his work and writing on his website, Facebook, 500px, Instagram, Twitter, and Flickr. This article was also published here.