'Ultra-wide angle' and 'minimal distortion' are not terms you typically see together. But that's what lens manufacturer Irix is claiming with their new ultra-wide 11mm f/4 rectilinear lens for Canon, Nikon, and Pentax.
The 11mm lens is Irix' second major contribution to the market, going even wider than the 15mm lens they announced last year. The newly-announced lens offers photographers a whopping 126° view with "guaranteed minimal distortion, as low as 3.13%" thanks to a special optical formula that includes 4 high refractive lenses, 2 ED lenses, and 3 aspherical lenses.
Like the 15mm lens before it, the Irix 11mm will come in two versions: Blackstone and Firefly. Both feature the same optical formula, but the more expensive $825 Blackstone features an aluminum-magnesium alloy construction, metal-grooved focusing ring, and anti-scratch coating. The Firefly trades these things in order to save you weight and cash. It will only cost you $595 and features an anti-slip rubber focusing ring and a lightweight construction that is 12% lighter than its rugged brother.
Below you can see a close-up of the Blackstone, followed by the lighter Firefly version: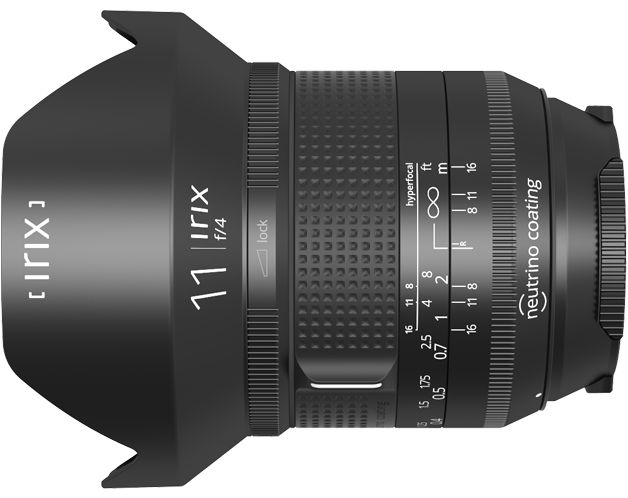 If you're looking to save on weight and don't mind a slightly flimsier lens, you might rightfully be tempted to go with the Firefly, but there's one more reason to consider the Blackstone. The UV light reactive engraved markings on the Blackstone glow in the dark, making this ultra-wide 11mm the better lens for night shooting.
To learn more about either of these lenses, click here. No word on when the 11mm lenses will be available for purchase, but you can find them listed as "currently out of stock" on the Irix website in Canon, Nikon, and Pentax mounts.
(via DPReview)