Photo scanning smartphone apps, watch out… Google just peed all over your turf. With the release of the new PhotoScan app, the tech giant is swooping in to help people quickly and easily digitize that old box of prints languishing in the attic.
Scanning your old prints with a smartphone instead of a cumbersome old flatbed scanner is nothing new. The Photomyne and Unfade apps both come to mind. But neither of those apps remove glare, and besides, they're not built by a company with the kind of resources Google can throw at the challenge.
Plus, Google can make fun, whimsical ads like this:
Building PhotoScan makes perfect sense for Google, a company that has already made it clear they want Google Photos to be the home for every photo you take, have taken, or ever will take. Now, that description includes those long-forgotten prints from the pre-smartphone era.
Using the app is easy. Simply launch it and line up the photo you'd like to scan inside the provided border. Once aligned, the app will give you 4 white dots to hover over, one at a time, while the phone captures and creates a high quality digital version of the paper print.
All of that glare that usually accompanies a photo of a print is gone, and you can make some final tweaks using the app's built-in editor. The final version is a high-quality (really depends on your definition here) scan using what Google is calling "the scanner of the future."
The app is obviously created with Google Photos in mind, but it was built separately for a reason. You don't have to have a Google Photos account or use it as your preferred back up method; when the app prompts you to save your scans, they save to your phone's storage.
If you happen to use Google Photos to back up your smartphone images, like some of us do, the experience is seamless from there. If you want to use another service, so be it.
You can grab the PhotoScan app on the iTunes App Store or Google Play right now.
One More Thing
PhotoScan was Google's big announcement of the day, but it's not their only announcement. The company also unveiled some very interesting updates to the Google Photos app itself, namely: a fully rebuilt suite of editing tools and filters.
This includes a smarter "auto-enhance" feature—which uses machine learning to predict what a photo editor might do to improve an image, and applies those edits—a host of granular editing tools like exposure, contrast, warmth, etc., and 12 filters that are applied differently depending on the photo's characteristics. That feature, too, uses machine learning.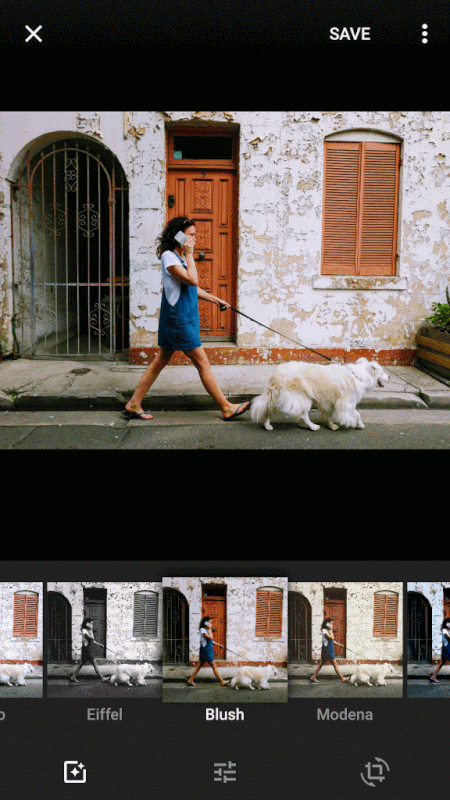 To take advantage of these new editing features, update your Google Photos app or download a fresh copy on the iTunes App Store or Google Play. And if you want to learn more about either of these apps, head over to the Google blog by clicking here.
(via Engadget)