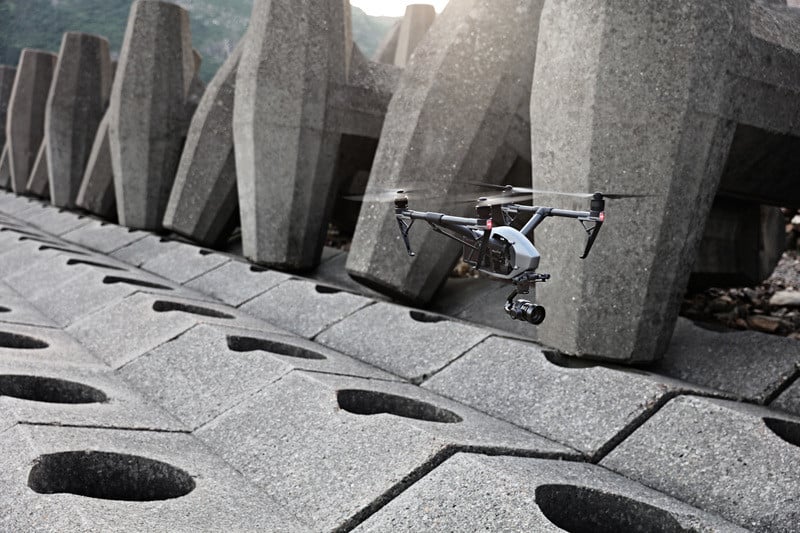 Apparently, total domination isn't quite good enough for DJI. It's not enough that the Mavic has received rave reviews, beating the GoPro Karma so badly they started falling out of the sky in embarrassment. Today, DJI revealed two new drones that practically have aerial filmmakers wetting themselves.
Introducing the Phantom 4 Pro, and the Inspire 2: best-in-class drones worthy of a few dropped jaws and a very confidently dropped mic.
"Professional filmmakers and photographers always push to create images that have never been seen before, and DJI never stops trying to give them the tools to achieve their vision," DJI CEO and Founder Frank Wang said in a statement. "Our newest flight platforms and stabilized aerial cameras are smarter, faster and more powerful than ever before."
Let's take them one at a time, starting with the weaker (very relatively speaking) of the two.
DJI Phantom 4 Pro
DJI is calling the Phantom 4 Pro the "smartest and most creative flying camera of its size." Translation: we added a bunch of new collision avoidance sensors, a better camera, and a slightly bigger battery to the Phantom 4.
The Phantom 4 was already a capable drone for UAV beginners wanting to capture some cool footage or aerial photography, and the Pro makes it that much easier by adding a pair of stereoscopic sensors on the back of the drone (the Phantom 4 only had them on the front) and an IR sensor on either side. They've also improved the battery to squeeze 30 minutes of flight time out of the new drone.
Add to that the new 1-inch 20-megapixel CMOS sensor that boasts 12 stops of dynamic range and the ability to capture 4K video at up to 60fps, a mechanical shutter, and f/2.8 aperture, and you're starting to get why photographers will love this drone.
Here are a couple of videos introducing you to the drone and the camera, courtesy of DJI:
In addition to the internal updates, DJI is also releasing a new remote control to go with the Phantom 4 Pro. The controller has GPS, a compass, a microSD slot and an HDMI port built in, and comes with an optional "high luminance display" that DJI claims "provid[es] a clear and vivid live HD view from the main camera as well as essential telemetry data, even in direct sunlight."
You can learn more about the Phantom 4 Pro on the DJI website, where you'll also find links for pre-order. The Phantom 4 Pro by itself will cost you $1,500, while the Pro plus the new remote control retails for $1,800.
Both configurations will ship in one week.
DJI Inspire 2
Okay, on to the big kahuna. The new Inspire 2 is a professional filmmaking and photography drone through and through. Faster, more powerful, more agile … more everything than its predecessor. People are already freaking out over this drone's specs, and it was only announced a couple of hours ago.
It's fast: boasting a top speed of 67mph, acceleration that brings the drone up to 50mph in just 4 seconds, and a climb rate of 7m/sec.
It's more versatile: featuring a new dual-battery design that gets you up to 27 minutes of flight time, sensors on top of the drone to avoid overhead obstacles, and a dedicated first person view camera that lets the pilot see where she's going without taking the main camera off the subject.
And it's a much more powerful filmmaking and photography tool: capable of using either the Micro Four Thirds 20.8MP Zenmuse X5S, or the 1-inch sensor 20MP Zenmuse X4S to capture 5.2K video at 30fps and an insane 4.2 Gbps and piping it directly into an onboard SSD because no microSD card could possibly keep up.
Here are a few videos that'll help you get up to speed on this monster of a drone, including a short film shot entirely on the Inspire 2:
As with the Phantom 4 Pro, you can learn more about and already pre-order the Inspire 2 over on the DJI website. The Inspire 2 aircraft by itself runs $3,000, or you can buy the Inspire 2 Combo—which includes an Inspire 2 drone, Zenmuse X5S camera, and CinemaDNG and Apple ProRes License Keys—for $6,200.
The combo will ship in early December, but if you purchase the camera and drone separately, expect to wait until January.