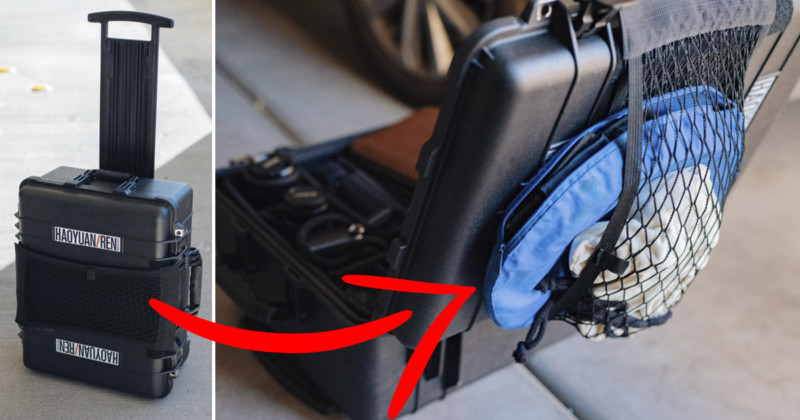 Rugged cases like Pelicans are great at protecting your gear: they're waterproof, climate proof, indestructible, and make a great apple box when you need to sit or stand on something.
After having more camera equipments than I am willing to carry on my shoulders, I bought a Pelican 1560 with padded dividers to carry it all, but the way the cases are structured makes it very difficult to put anything large like reflectors or umbrellas into the case. It is also very space consuming/uneconomical to put things like clamps and power cables and grip equipment inside the case, and almost always stupid to put water bottles inside the (watertight) enclosure.
I remember when I was working as an assistant, many photographers used to stuff reflectors and cables inside the outside front pocket of their soft camera rolling cases. Wouldn't it be great if the Pelican case had something like that on the outside?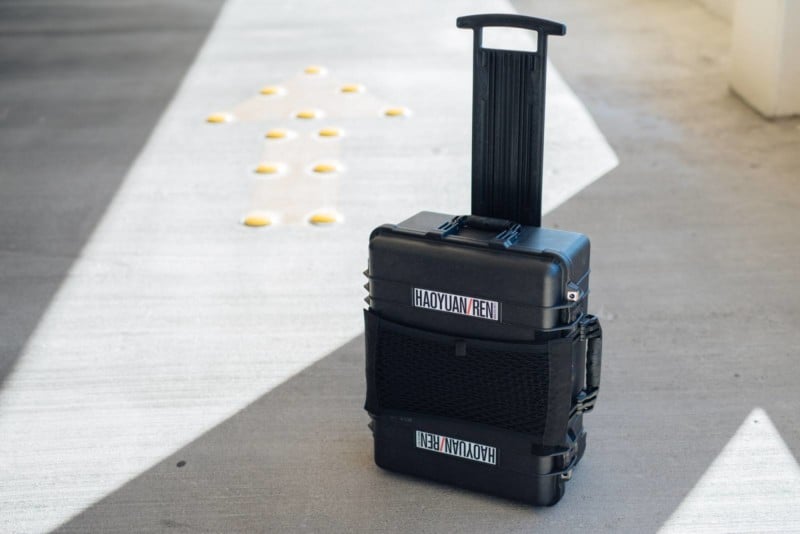 Well, it's easier to add than you think.
To add a pocket like that to the Pelican, all you need is strips of industrial strength velcro (the 2″ works much better than the thinner ones) and some elastic mesh pockets for the car.
The mesh pockets are $15 for a pair and they have the hook side of the velcro sewn into the sides already. 4 feet of Velcro and 2 pockets comes out to be about $25; split that over 2 cases and that's less than $15 per pocket. The entire hack is very cheap compared to everything else in the photography world, and it takes just minutes to install.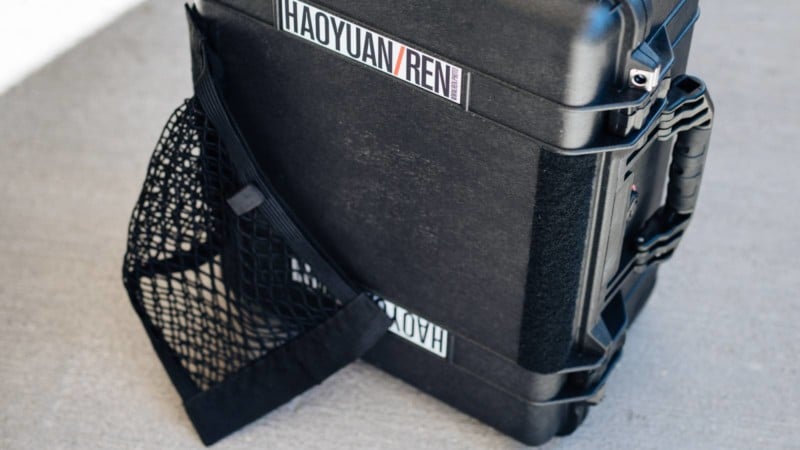 This hack works on any rugged case, but it's best on vertical rollers. I have installed it on my Pelican 1510 as well as the Pelican 1560.
All you have to do is cut the velcro to length and stick it on the Pelican to cure… and voila!
Make sure to install the velcro far enough apart that it gives the pocket a bit of stretch. The stretch is necessary to keep the pocket closed at the top when you drop in small items. For the Pelican 1560, the velcro sits on the lid, but for the 1510, I had to position one of the velcro strips on the bottom half of the case behind the hinge (works perfectly, too).
The great thing about this setup is that you can take off the mesh pockets and store them inside the case during transport; when you're on set, on location, or in low action areas, you can leave it on the case semi-permanently.
I put my Holdfast Moneymaker strap and Lastolite 30″ Difflector inside the pocket during weddings, or press pass and water bottles during events. It's really up to you on how to use it, and you can put anything you need quick access to inside: power cables, reflectors, lens cap, water bottles, small light stand, and even bluetooth speakers (to blast some music on set).
The pouch stays attached even when the case is opened.
I love adding new functionality to my existing equipments, and this is a very cost-effective way to do so. When all said and done, each case should cost you no more than 15 dollars.
---
About the author: Haoyuan Ren is a photographer based in Los Angeles and Las Vegas. You can find more of his work on his website, Facebook, and Instagram. This post also appeared here.