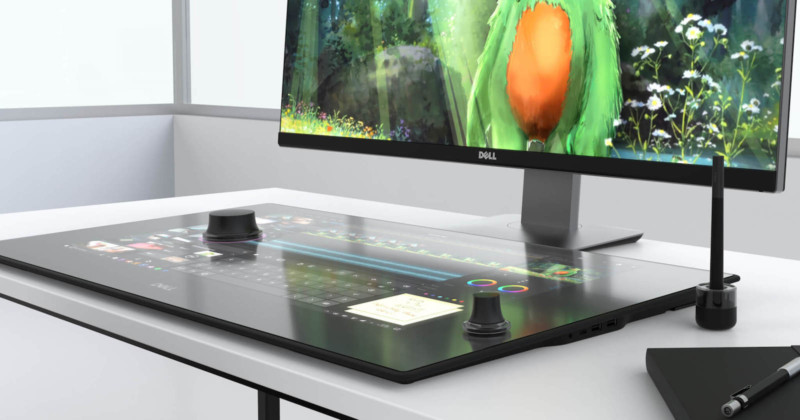 Dell is on fire today. After revealing a new an 8K display that has many a creative drooling over its resolution and color gamut, they just unveiled the Dell Canvas: a 27-inch touch-sensitive 'horizontal smart workspace' (read: monitor) in the spirit of Wacom's Cintiq 27QHD and Microsoft's Surface Studio.
Like the Surface Studio, the Dell Canvas works with a pen and dial (in this case, Dell's 'totems'); like the Cintiq 27QUD, it's meant to be used as a peripheral, a 27-inch QHD touchscreen 'workspace' that connects to your existing Windows 10 computer and makes it a whole lot more creatively useful when using programs like Photoshop or Autodesk.
Here's a first look at the Dell Canvas from CNET at CES:
Dell is calling this "the world's first horizontal smart workspace of its kind with touch, totem and pen capabilities." That might be a stretch, but the 2560 x 1440 QHD 'smart workspace' is helping to expand the exciting 'monitor as drafting table' trend. We're not complaining.
You'll be able to order the Dell Canvas starting March 30th on Dell.com for $1,800. Start saving friends.
(via DPReview)