We've all seen photographs before of light trails through various forms of light painting—cars passing by, flashlights, pixelsticks, wool spinning, etc. But have you ever seen someone use fire inside a gym to create light trails?
That's the idea behind my latest shoot.
My gear used for this shoot
Nikon D810, Sigma 24mm 1.8
(2) Interfit S1's with full stop CTO gel, along with Interfit's remote trigger
26″ white diffused beauty dish as backlight modifier, 39″ Selens para as main light modifier
Shooting tethered via MacBook Pro into Capture One pro 9
For BTS footage
Go Pro Hero 3+, 4, 4+
Sony RX100M3
Safety
To be prepared for safety, we made sure to have a few available items:
(1)Fire extinguisher
(3) Wet towels
(1) Giant bucket of water
For most cases, putting the fire out with a wet towel would have been a better extinguisher, so that we could preserve a piece of equipment to remain flammable until the shot is accomplished. A bucket of water was close by to keep our towels wet. If somehow things were to get completely out of hand, a fire extinguisher was also nearby and ready for use.
Shot 1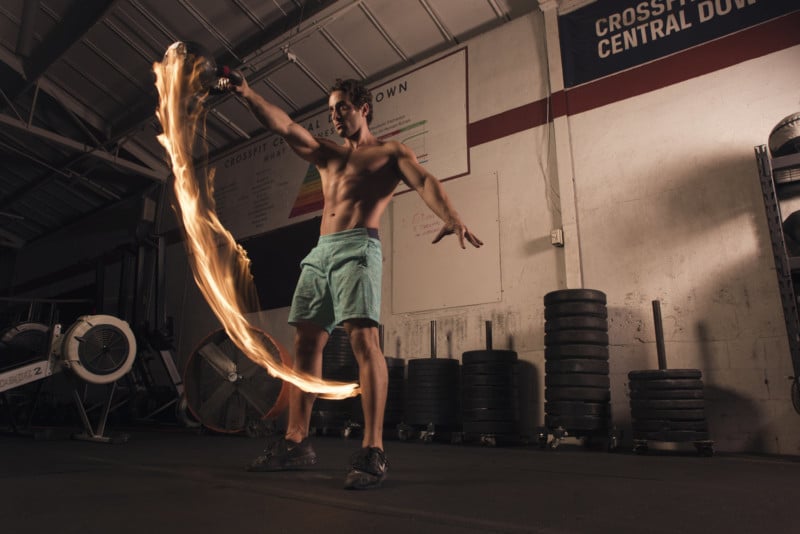 With this setup, I knew I wanted to capture the direction that the flame would travel, while still showcasing the athlete in a flattering and dynamic way.
To light the kettle bell, we simply stuck some tape to the bottom and applied a little lighter fluid to catch the flame. Prior to each take, we made sure to have the athlete dip the outside of his hands in some water to protect the skin from any flame that may come close.
Shot 2
I knew I wanted to showcase more of the action of this shot, since the fire trail is a little less interesting. We had to start the beginning of the shutter with a bigger flame, just so that you could see his body move from the left side of the frame to the right.
Since this photo was a much longer shutter speed, I had remotely triggered the flashes when I knew he would cross the correct position of the photo. This was a much easier method to execute, compared to just using rear-curtain sync and attempting to time the tail end of the shutter.
Shot 3
This shot was one of my first ideas I had come up with. I knew the bar's path throughout the snatch would create a really interesting fire trail. It's a very similar setup to the kettle bell swing above, but a different background and a different movement create something very different in the end.
To ignite the flame, we simply sprayed lighter fluid on the side of the plate facing the camera. By the end of the movement, most of the flame had died out, and was easier to extinguish with a wet towel.
I'd like to give a shoutout to Interfit for their newest strobe, the S1. They were the only two lights I used for this shoot, and were more than enough power to compensate for the needs of this shoot. And thanks to Jeremy Thiel (CoFounder of Crossfit Central) for letting us use the gym!
---
About the author: Brandon Wells is an Austin, Texas-based fitness photographer. You can find more of his work on his website, blog, and Instagram. This post also appeared here.