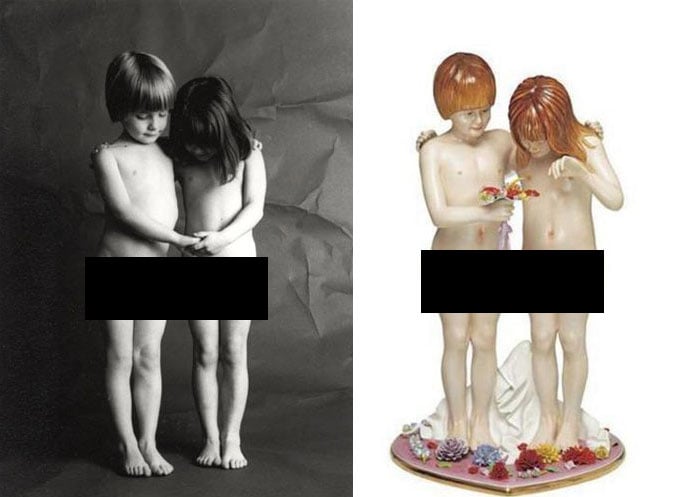 A French court has ruled that American appropriation artist Jeff Koons infringed the copyright of French photographer Jean-François Bauret in creating one of his celebrated sculptures, Naked (1988).
The statue is a 40" porcelain statue of a naked boy offering a bouquet of flowers to a naked girl while standing on a pink heart decorated with flowers and is part of his Banality series.
The Guardian reports that Jeff Koons LLC and the Pompidou Centre in Paris were ordered to pay the late photographer's family €40,000 ($43,000), half of which will go towards covering their legal fees. The company will also have to shell out a further €4,000 ($4,300) for having used a picture of the sculpture on its website.
The judges concluded that the sculpture had been plagiarized from Bauret's 1975 postcard picture titled Enfants and ruled that even if there were minor differences from Bauret's photograph, these "do not prevent one from recognizing and identifying the models and the pose" from the original black-and-white photograph. The boy and girl have the same hairstyles and their bodies are similarly positioned, but Koons did add flowers to the sculpture and also produced it in color.
Radio France Internationale reports that the sculpture was excluded from the museum's Koons retrospective as it was damaged in transit, but they did use photographs in the catalogue.
"I met a curator of contemporary photography at the French National Library to talk about donating some photos and she showed me all the shots my husband had done that they had already… luckily, this one Enfants was in the 1971 collection, so there was a trace of it," Bauret's widow Claude Bauret-Allard told France's Télérama. And that is how she discovered the similarities between Naked and her husband's photograph.
PDN Pulse notes that Koons has been involved in other disputes over copyright infringement as well, including one against photographer Art Rogers. He admitted to having copied the String of Puppies image intentionally, but attempted to claim fair use by parody.

The court awarded Rogers a large monetary settlement in that case.