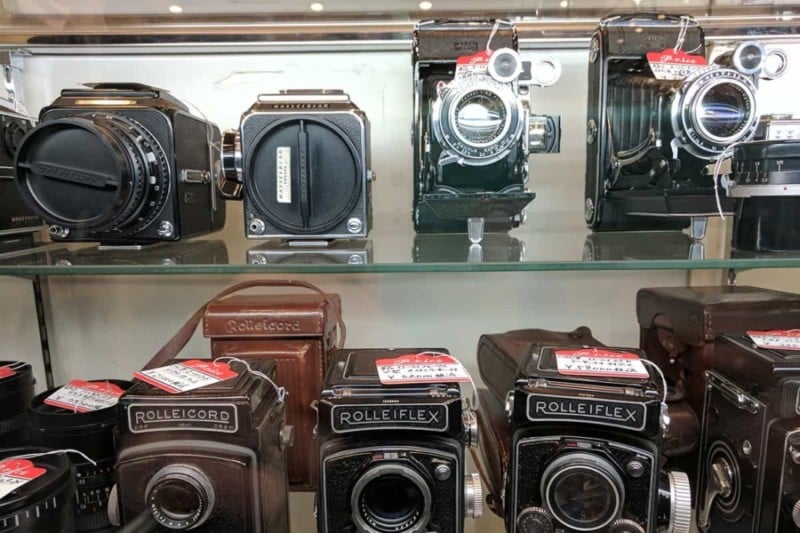 Japanese camera manufacturers dominate the digital photography landscape, so it might come as a surprise that the used film camera market is also thriving in Tokyo.
Japan Camera Hunter has scoured the city for years, but I thought I would take a look for myself by visiting both the CP+ expo in Yokohama and one of the annual fairs held by I.C.S., a trade organization of used camera shops, at the Matsuya department store in Ginza.
Amongst the crowd of vintage Leicas, Hasselblads, Nikons, Canons, and Rolleis, were a few wacky cameras that I never knew about.
Compass Camera
The Swiss company LeCoultre, now known worldwide as high-end watch brand Jaeger-LeCoultre, was tapped by London-based Compass Camera Ltd to manufacture this all aluminum 35mm camera – one of the smallest. But don't think you'll be loading a roll of Tri-X in this bad boy because it uses sheet film!
Only about 5,000 of these cameras were made between 1937 – 1941, and they are definitely a collectors item.
Approximate Price: $13,482 (112 yen to the dollar)
Plaubel 670
Imagine a medium format camera with a pancaking lens – a huge 6×7 negative in a compact body. Too good to be true? You might want to check out the Plaubel 670. Originally produced in Germany in the early 20th century, the brand was purchased by Japan's Kimio Doi Group in the 1970s. This distinctive bellows on the fixed Nikkor 80mm f/2.8 lens (normal lens on this format) combined with the ability to use 120 or 220 roll film make this a dreamy camera. Not even the Hasselblad X1D is thinner than this.
Photographer Ray Larose swears by the camera, but wants to remind you that it has a double stroke advance lever.
Approximate Price: $2,118
Hansa Canon
Precision Optical Instruments Laboratory – the precursor to the company we now know as Canon – released their the first mass-produced 35mm rangefinder in 1935, heeding the call from the Emperor of Japan to develop domestic technology. Although the camera isn't revolutionary, it was the beginning of the company's dominance as a technology powerhouse – producing everything from cameras to medical equipment.
Canon has a nice history of the camera.
Approximate Price: $14,980
Voigtländer Bessa T (Olive)
Perhaps you've been wanting to try some of that legendary Leica glass, but can stomach dropping a few more grand on a body. You don't need to because for three years starting in 2001, Voigtländer produced an M-mount compatible camera filled with a slew of nifty features that you can still get for several hundred dollars. This particular camera could be yours for only $612, which means you can now afford that $10,650 Noctilux 50mm f/0.95.
Approximate Price: $612
---
About the author: Allen Murabayashi is the Chairman and co-founder of PhotoShelter, which regularly publishes resources for photographers. Allen is a graduate of Yale University, and flosses daily. This article was also published here.