If a tree could write its own Requiem, its own death song, what would it sound like? It seems like an absurd question, but the folks at camera gear manufacturer Syrp collaborated on a strange, beautiful ecological shoot that revealed the answer.
Syrp is based in New Zealand, and the country's native kauri trees are currently facing an epidemic disease called "Dieback."
Kauri dieback is an untreatable disease that is spread by humans, but unfortunately, 83% of visitors to NZ's forests ignore the cleaning stations and preventative instructions meant to save these ancient forest giants. Syrp hopes this video will help to change that.
When a Kauri is infected with dieback, microscopic spores in the soil infect the tree's tissues and cause the tree to bleed sap. In order to create A Kauri Cries, Syrp set up five of their Genie motorized heads and Magic Carpet long tracks around the trunk of a dying Kauri and captured five vertical tracking shots.
These shots were then transformed into a musical score by electronic musician and production specialist Tom Cosm. He used the patterns of the weeping trees to create pitch and volume, which were eventually converted into notes using pattern-finding algorithms and code.
Finally, that score was played, around the tree, by five members of the Auckland Philharmonia Orchestra—a beautiful, meandering dirge… the tree's own swan song.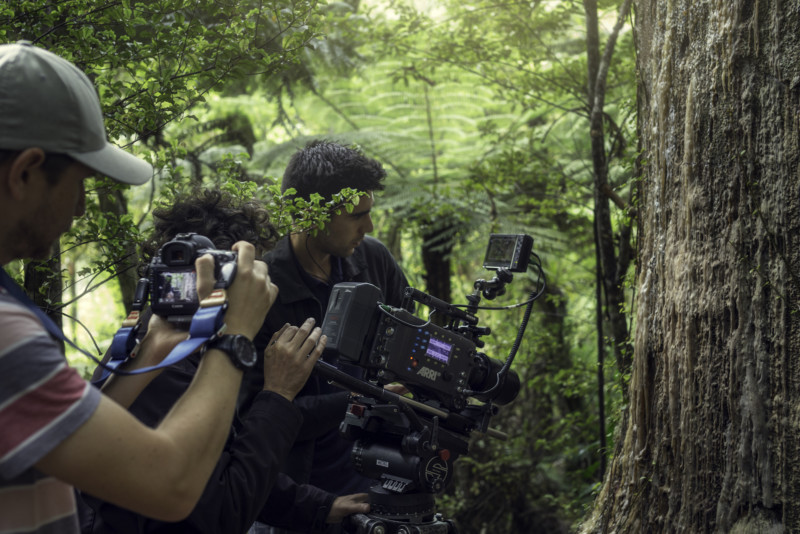 The campaign, which was created for the Aukland Council and Keep Kauri Standing, is up at the website A Kauri Cries where you can interact with the tree's song and learn more about the disease that endangers them. You can also support the campaign on its Facebook page.
---
Image credits: All photographs courtesy of Syrp.