Wedding photos from the late 1800s have a slightly different aura about them… and we're not talking about the sepia tone, either. There's often no smiling or touching — completely emotionless images of people on their special day were commonplace.
A collection of old wedding photos was curated by Frank Maresca for a new exhibition titled "I DO, I DO" at the Ricco/Maresca Gallery in New York. The exhibition runs from June 29th – September 9th, 2017, and transports us back in time to when photography was becoming more popular. After England's monarchy sat for studio portraits, the trend caught on, and between 1885 and 1900, newlywed couples began to have their own photographs taken.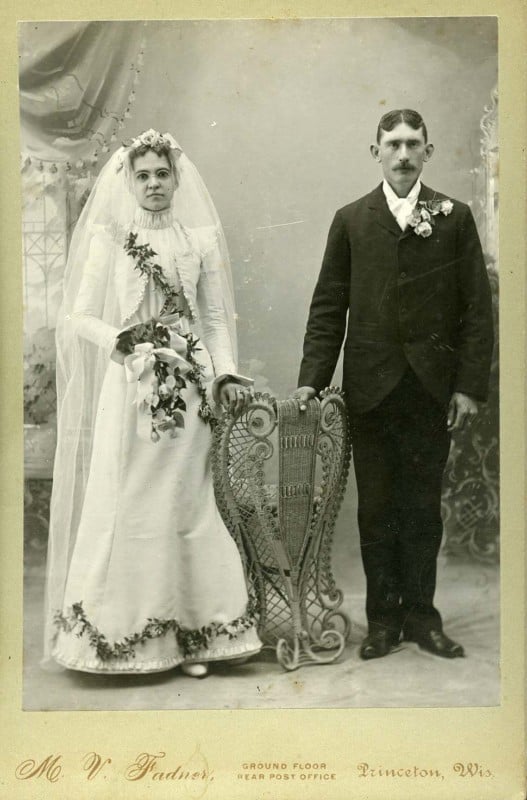 Curating the exhibition was a fascinating process for Maresca, who trawled through eBay, Etsy, and small flea markets in search of the photos. Interestingly, most of the photos appeared to be from Wisconsin, suggesting the trend had caught on there first for some unknown reason.
Wedding photography is, today, a much different beast. Instead of just one "celebratory" portrait, a photographer will follow the couple around for the entire event. A good wedding photographer will capture the emotion and importance of the day, whereas these photos show only a stern and somber seriousness.
Although the earliest known photos of people smiling were shot several decades before these photos, it was the norm to leave out smiling for a variety of possible reasons — things such as technical limitations (having to hold your pose for very long exposures), bad teeth, and cultural preference.
(via Ricco/Maresca Gallery via HuffPo)