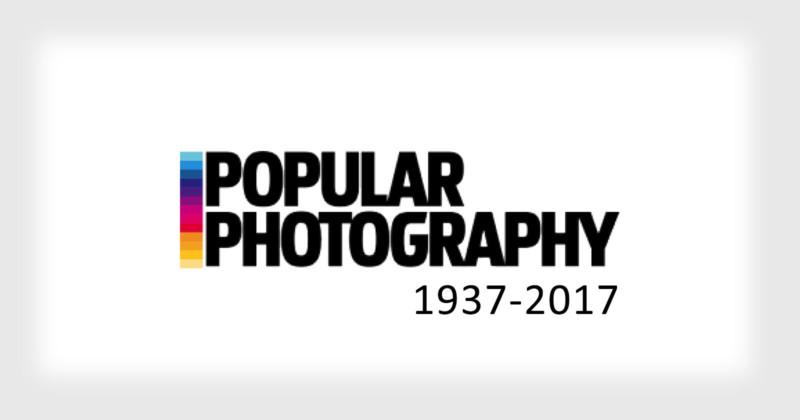 Popular Photography, the largest circulated imaging magazine that launched its first issue in May 1937 in New York City, has ceased publication after being continuously in production for 80 years. The March/April 2017 issue will be the last in print.
When print magazines close, their online counterparts often live on, but in the case of Popular Photography, PopPhoto.com will also simultaneously close (though it may stay online for a while).
In April 2015, American Photo — also owned by Bonnier Corporation — stopped the print magazine and moved to online only at AmericanPhotoMag.com, but that too has come to an end.
Last year, issues of Popular Photography began to be combined, and then it was announced that instead of a monthly magazine there would be only 6 issues a year, but even that move proved inadequate to save it from depleted ad revenues. Earlier issues were filled with retailer advertising at the back of the book but with online sales becoming dominant, those ads were sadly missing or severely reduced.
Here's the internal company-wide email sent out by Bonnier CEO Eric Zinczenko announcing the shuttering of the two magazines:
From: Eric Zinczenko
Date: Mon, Mar 6, 2017 at 2:25 PM
Subject: [notifycorporate] Popular Photography and American Photo
To: Notify Corporate

Dear colleagues,

This afternoon, Gregory Gatto, VP, Publishing Director of the Lifestyle Group, and Anthony Licata, Editorial Director of the Lifestyle Group, made the difficult announcement to our employees in New York that we have decided to cease all media operations for Popular Photography and American Photo, effective today.

I want to take this opportunity to share this news with the entire company and the reasons behind our decision. In our most recent Town Hall, I spoke of how the pace of disruption through digital and technological advancements is unprecedented. Unfortunately, the photo industry is an example of where this disruption has forever altered the market. The rise of smartphone-camera technology and its increasing ability to capture quality photos and video and instantly share them socially has dealt the photo industry formidable challenges. For our brands, these industry challenges have left us with insurmountable losses in advertising and audience support. Despite the extraordinary efforts of our committed colleagues at Popular Photography and American Photo, as well as our best attempts corporately to find a sustainable path forward, we are simply unable to overcome these market forces.

We would like to thank Miriam Leuchter and her team for their commitment not only to their industry, but to Bonnier as well. Since 2009, Miriam and team have consistently produced best-in-class content, giving their audience of photo enthusiasts industry-leading product reviews, smart service journalism and, of course, terrific photography. They have done everything possible to make these brands thrive; unfortunately, the challenges in the photography industry are just too great.

I also mentioned last time we were together that our executive group will never waiver in making the difficult decisions that protect our company and our greater group here, and keep us on our path to long-term sustainability. While this decision is far from pleasant, it reinforces our commitment to channel Bonnier Corp.'s precious resources to healthy industry verticals and our category-leading brands to drive asset value of Bonnier's U.S. portfolio.

We have a fiduciary responsibility to constantly evaluate our portfolio of brands as part of our ongoing transformation, but I want everyone to know there are no plans on the horizon to cease operations of other brands; if there were, we would have announced those today as well.

Please join me in thanking our colleagues at Popular Photography and American Photo for their contributions and to wish them the very best. We are also grateful to all of you for your continued resilience, dedication and endurance as we continue on our strategic path forward.

Best,
EZ
Here's the internal memo sent out by Popular Photography and American Photo editor-in-chief Miriam Leuchter to the magazines' contributors yesterday:
From: Miriam Leuchter
Subject: Fwd: [notifycorporate] Popular Photography and American Photo
Date: March 6, 2017 at 3:30:24 PM EST

Dear all,

I apologize for sending this to you in a group email, but I wanted to give all of our most valued, loyal, and beloved contributors this bad news as soon as possible—even though I haven't really figured out what to say.

I'll just say it bluntly and you can scroll down for more from Bonnier Corp's CEO. Our company has decided to shutter Popular Photography and American Photo. Our recent March/April 2017 issue will be our last in print, and while both of the websites may stay up for a while, as of Friday we will cease to post anything new.

Those of you who wrote or photographed for the May/June issue will be paid for your work, of course, and you are free to publish this work elsewhere.

It's been a pleasure and an honor to work with all of you over the past 15 and a half years, since I first arrived at Pop Photo. I'm very sad to see the end of two great publications, including the leading magazine in the photography industry, 80 years old this spring.

Yours,
Miriam
[Pop Photo's end] "is partly that the parent company just did not see the value of a photography magazine," says Jeff Wignall, Contributing Editor at Popular Photography since 2008 who has been writing for photo magazines for 40 years. "Cell phone cameras, you have to admit, played a big part in this, but if Bonnier wanted to save the photo magazine there were ways to do it."
"Their website was very lame, they started it up at one point, and seemed like they had a lot of energy flowing into it for a while but that was several years ago," he continues. "Then they seemed to have abandoned the website and the only way, ironically, for a print magazine to survive is if it has a good partnership with an online edition of the magazine. Without that there is a sort of breakdown in communication between the print reader and the online person."
"The PopPhoto.com website has always lagged behind other photo websites and it's just because the company was not committed to putting money into that," Wignall says. "You know, when I first started writing for POP they were paying me to contribute to PopPhoto.com and then after a while they just sent me an email saying they could no longer afford to pay for contributions. You can still contribute if you want but I write for a living and it's hard to do that."
"This had got nothing to do with the editorial staff of the magazine and it comes from high above. This comes from Bonnier's lack of belief, I think, that the photo community would support a big website, which is obviously not true. If you have a bunch of media properties and some that are thriving, you're naturally going to make a business decision to support and grow those, rather than save a struggling cousin that's falling by the wayside. What's the point of putting all the energy into that?"
"Even though I was the contributing editor, they never gave me a complimentary subscription to the magazine. When my sources asked me for a copy I had to go out and buy copies and mail it to them."
Jason Schneider, who was the editor from 1987 to 2003 and earlier with Modern Photography from 1969 to 1987 says the digital revolution and camera manufactures also played a big role.
"Digital manufacturers did not adequately support the magazine and their revenues were compromised and this is something that affects all print publications operating in an era of social media and indirect electronic commerce," Schneider says. "The medium was the message and the message was good-bye."
"Ever since the digital revolution hit home shortly after the millennium and by 2002 blew analog photography into the weeds to become the dominant medium everyone was petrified and photography itself became a dirty word and it was decided to change the name to Popular Photography & Imaging," Schneider continues. "People will see photography and think that this is an old-fashioned publication, we have to refresh it, and so they called it Popular Photography & Imaging. However, within five years it had become clear that photography had gone digital so overwhelmingly that the distinction was moot; thus Popular Photography alone returned as the title."
During its run, Popular Photography developed a fine system of testing cameras. Former editor John Owens said more than 10 year ago that in excess of a million dollars was spent in setting up a state of the art testing lab. Pop Photo was one of the few places where you could read in-depth camera reviews, they have been doing bench tests for a long time, and produced pretty involved reviews and they were considered fairly authoritative.
At its peak, Popular Photography had a circulation of nearly to 1 million. Today, as per the 2017 Media Kit, that number stands at 320,000. The audience was always male dominated and stands at 60%. The median age is 49.9, so millennials are missing, and that could perhaps be one of the reasons for the demise.
Magazines have a finite run and when their era disappears, the magazine goes with it. It seems that younger photography enthusiasts who live on the phone and tablet are not attracted to print magazines anymore.
---
About the author: Phil Mistry is a photographer and teacher based in Atlanta, GA. He started one of the first digital camera classes in New York City at International Center of Photography in the 90s. You can reach him via email here.