I often frequent my local Goodwill at least once a week. I'm usually partial to picking up vinyl, vintage sweaters, cameras, typewriters, and books. Somehow this week was different.
Hidden in the toys and dolls section was a box of vintage Kodachrome slides. I thought it was quite ironic considering I had spent the past few weeks prior studying and developing my own Kodachrome.
The box contained at least 2,000 or more slides. They wanted $10 for them so I thought why not. I initially thought I could use them for some craft project or something.
I don't have a film scanner so to see what the images were on the slides I Googled for a white background and held them up to my phone and computer monitor. I was surprised to find photos of navy ships and a sailor.
I also came across many travel photos of Mexico, Australia, and even Hong Kong. There were photos of births, weddings, graduations, and even a photo of what looked like a woman dying of cancer. Some of the slides include famous footballers, the Twin Towers, and 60s singers: Peter, Paul, and Mary.
I found it very interesting to see photos from the past. I mean, I'd seen my own family's old slides, but finding a box of randoms from someone else made it more fun. Each and every picture is a part of someone's whole life.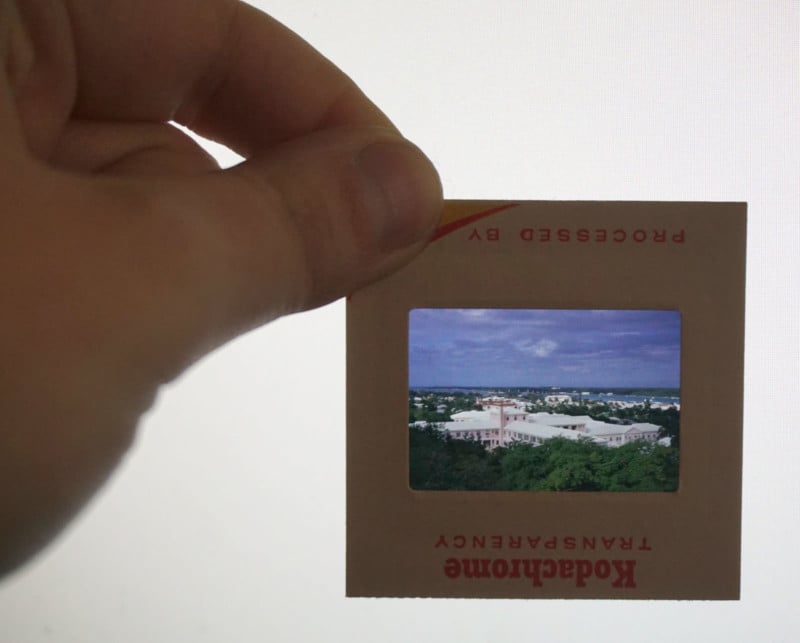 My uncle, who passed away last January, was in the navy for 20 years and he was my inspiration for liking Kodachrome and photography so much. He had done a lot of photography and 8mm films himself.
I've slowly been trying to upload every slide to my Instagram.
---
About the author: Liana Marshall​ is a photographer who studied photography at the New York Institute of Photography. You can find her work on her website, Instagram, and Twitter.