On New Year's Eve, you might think the people in Times Square were treated to the best light show… but you'd be wrong. Photographer Aryeh Nirenberg, enjoying a full row of seats on his flight from JFK to Reykjavik, Iceland, was treated to a more spectacular show.
New Year's Eve might be the only night of the year you could dream of having a row of airline seats to yourself on a flight to Iceland, and Nirenberg took full advantage of his luck.
Using the abundance of space, he slapped his Nikon D810 and 20mm f/1.8 lens on to a tripod and rigged it to the window with a blanket for maximum visibility and minimum glare. Here's a picture of his setup, busy shooting a time-lapse at 35,000ft.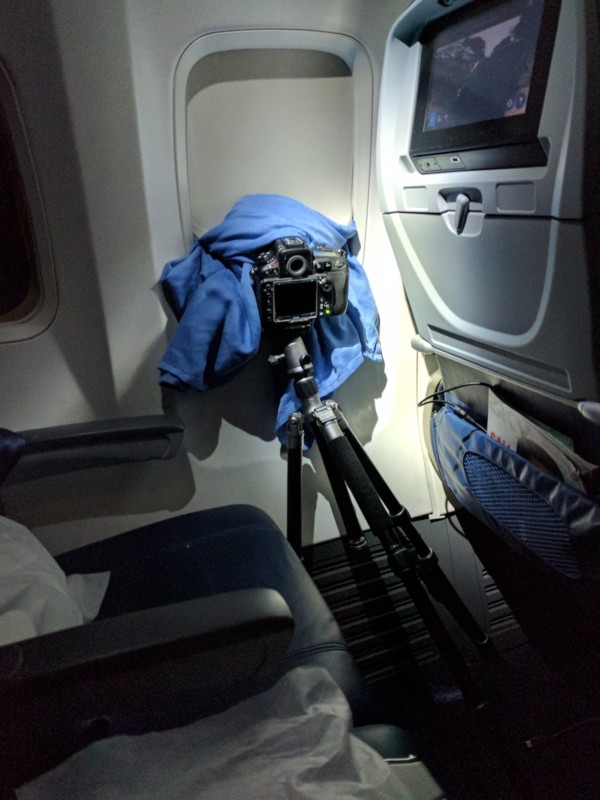 The final product is a tad shaky at times, but stunning all the way through. If you're not requesting—nay, requiring—the window seat every time you fly at night, you're missing out. Check out the full video up top and then give Nirenberg a follow on Instagram to see the photos he captured once he landed in Iceland.
---
Image credits: Photo and video by Aryeh Nirenberg and used with permission.