Online photography community and licensing marketplace 500px announced an interesting new service today. It's called the 500px Directory, and it allows photographers to advertise their services, show off their work to prospective clients, and get hired, all in one place.
The 500px Directory was actually released in Beta back in December, but today marks its worldwide release with almost 50,000 photographers representing 191 countries already signed up and ready to hawk their wares to prospective buyers.
500px users who sign up to use the Directory will see a Services tab and Hire button added to their account. On that tab, they can advertise the services they offer, when they're available, list the gear they have at their disposal, and create Sample galleries to show off specific specialties like "Aerial" photography or "Portraits."
Here's what a fully set up Services tab looks like:
Once a client gets in touch, photographers can set their own rates and negotiate their own contracts through that "Hire" contact form—no need to worry about pre-set licensing rates and royalties and all that other mess.
What's more, there's no service fee. The catch being that, starting in April, you will need to have a 500px Plus or Awesome account to use the 500px Directory. Until then, consider this your 60+ day free trial, when you can set up your Services tab, display your work, and see if you can get any bites from clients.
The Directory will also connect directly to 500px's On-Demand services—where they work with high profile clients like Google and Lonely Planet who want to leverage the website's global community for custom work. If you want to be at the top of the list for consideration when one of these big names comes to 500px looking for a custom assignment, you probably want to be part of the 500px Directory.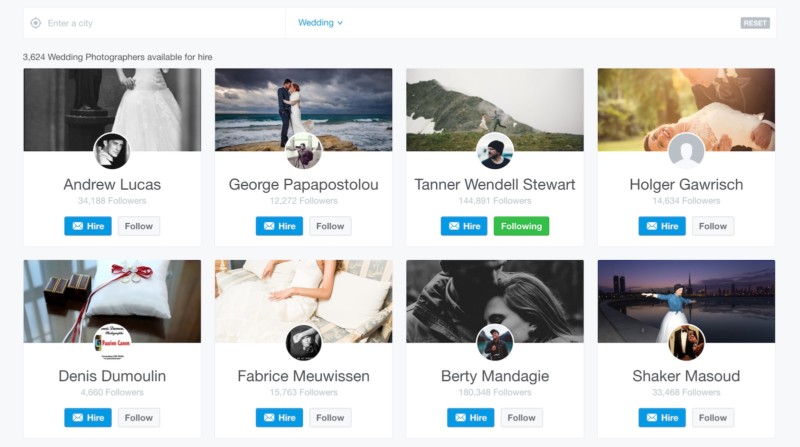 Finally, addition to the Directory, 500px also announced a new partnership with Adobe Stock. The 500px Marketplace will contribute 100,000 "highly curated" images to be a part of the Adobe Stock Premium collection of licensable images.
Between the 500px Directory and the Adobe Stock deal, both the photo sharing community and licensing pieces of the 500px puzzle are getting a big boost today. To learn more about either of these branches, check out 500px's official announcement or visit the 500px Directory by clicking here.
---
Full Disclosure: DL Cade previously worked for 500px as the company's Editor in Chief.