Sony is one of the heavyweights in the camera sensor business and a company that produces sensors for rival camera companies, including Nikon. But when it comes to Sony's best sensor designs, the company apparently keeps those precious sensors exclusively in-house for its own cameras.
Imaging Resource recently published (and then abruptly deleted) an interview with Kenji Tanaka, Senior General Manager in Sony's Digital Imaging Group. Tanaka briefly spoke about how Sony reserves its best custom sensor designs.
"As you know well, our key driver is the image sensor, and we already invested a lot of money for the image sensor development," Tanaka tells Imaging Resource. "And the sensor is a custom [design, meaning that] only Sony can use these sensors, and our strength is our in-house technology."
This statement was surprising to Imaging Resource founder Dave Etchells, who conducted the interview.
"This was new information for me," Etchells notes in a comment. "As far as I'd been aware, Sony's camera division would get access to the latest sensor designs as soon as they came through the design and production cycle, while other companies could buy the same sensor a year later."
"While this might once have been the case, it appears that Sony currently reserves some level of their sensor technology exclusively for us in their own cameras."
Shigeki Ishizuka, global head of Sony's Imaging Business, told DPReview back in 2014 that at least some of these exclusive sensors are sometimes sold to other companies after Sony has enjoyed enough "competitive advantage."
"When we make sensors we put them in several categories," Ishizuka told DPReview. "[At any given time] one category of sensors is reserved purely for Sony cameras – we don't sell them to other companies. Like the sensor in the A7S."
"But once we've enjoyed this advantage we might sell them on later, after some time has passed," he continued. "This is the second category. The third category of sensors is completely generic – the sensors are created for use internally and to sell externally, to anybody. China or Taiwan or wherever."
Sony does appear to be benefiting from using its best sensor designs for its own cameras. One of its sensors holds the top spot at DxOMark, and the 3 best camera sensors ever tested by that testing lab — found in the Sony a7R II, Nikon D810, and Sony Cyber-shot DSC-RX1R II — were all made by Sony.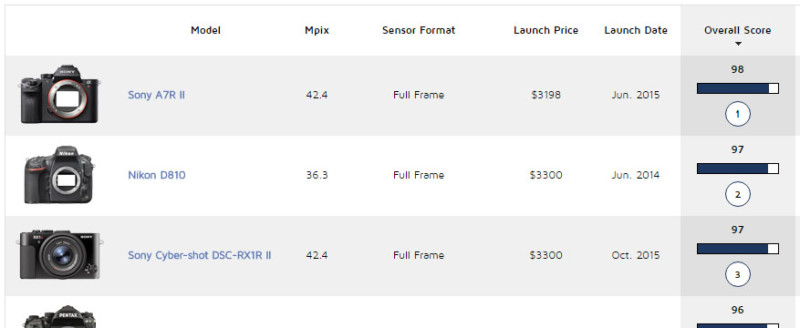 Sony may not be the market leader when it comes to digital camera sales, but it definitely appears to have a significant competitive advantage in the industry due to its sensor skills and dominance.