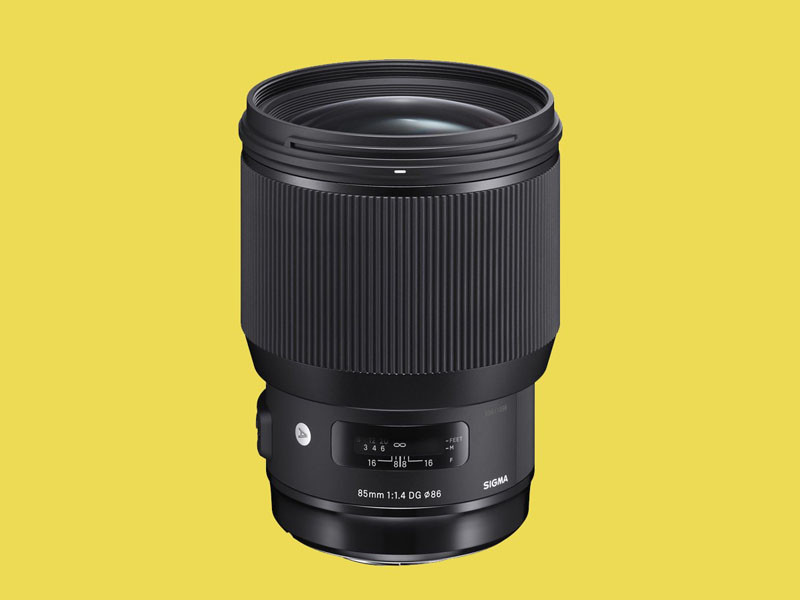 Sigma is continuing to extend its Art series with the new 85mm f/1.4. The long-awaited lens received lots of attention when it was first announced at Photokina 2016.
I had a chance to try out this great lens at Photokina, but of course I needed to examine the results on a computer and look at 100% cropped images. As soon as the lens arrived in Turkey, I grabbed the lens and the other popular 85mm lenses and tested them. Here are my thoughts.
Overview
The Sigma 85mm Art is a great lens with quality optics and body. It's a little bit heavy and big, but the lens feels more professional with these attributes. This is the success of Sigma's marketing department: we photographers now believe that Art lenses are high-class lenses rather than lesser alternatives to Canon or Nikon lenses.
Sigma's 85mm Art is a full frame lens, but you can also use it on crop bodies. Rivals are hard to beat, but they're also more expensive. Let's see what Sigma can do.
Handling
When we compare it with other 85mms, the most interesting feature is the filter size of 86mm — a big wow. Not all the filter manufacturers have this size, but as far as I know, Hoya, BW and Sigma do. The lens material is really good: I feel like I get my money's worth.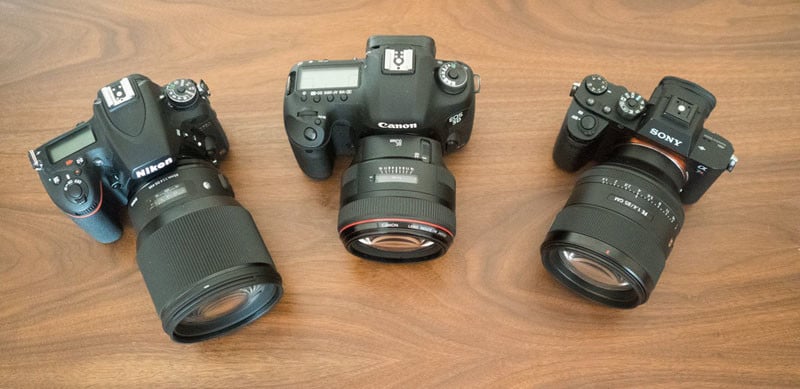 As you can see, Sigma 85mm Art is a big lens compared to other 85mms. This is sometimes an advantage, sometimes a weakness. Customers may think that you're more "professional" with big lenses, but you may also think that you don't need to carry this much weight to get good looking photos.
Sharpness Tests
I tested the 85mm lenses with the setup above. It's not a laboratory test, of course, but I tried to keep everything consistent. Here are the competitors I tested:
1. Sigma 85mm f/1.4 DG HSM Art ($1,199)
2. Tamron SP 85mm f/1.8 Di VC USD ($749)
3. Nikon AF-S NIKKOR 85mm f/1.4G ($1,500)
4. Canon EF 85mm f/1.2L II USM ($1,900)
5. Canon EF 85mm f/1.8 USM ($349)
6. Samyang 85mm T1.5 ($300)
7. Sony FE 85mm f/1.4 GM ($1,800)
Note: You can click/tap each test grid to see a larger version.
Sigma 85mm f/1.4 DG HSM Art
When I tested Sigma 85mm Art starting from its largest aperture, I got the results below. I see that the lens is really sharp even at f/1.4. The lens gets sharper and sharper moving up 1 or 2 f-stops and stays sharp.
Tamron SP 85mm f/1.8 Di VC USD
The Tamron 85mm is not a real competitor to the Sigma 85mm Art of course, but I thought that we could see how the lenses compare. This is the only lens that has image stabilization among 85mms, but we can't use that feature in this test because I've used a tripod in order to get the same image. When we look at the results, the lens is soft at its largest aperture and has some C/A issues. It gets sharper, and the sharpest aperture is f/4, as far as I see.
Nikon AF-S NIKKOR 85mm f/1.4G
I've used the Nikon 85mm D and 85mm G for 3 years, and I can personally say that this lens is most probably the best lens I've ever used. The results also show us that lens is very sharp at all aperture values. No C/A issues and stays sharp at larger f-stops.
Canon EF 85mm f/1.2L II USM
The Canon 85mm f/1.2L is popular and a legend, but the sharpness results show us the opposite. The lens is soft at large apertures and gets sharp at about f/2.8. Lens also has C/A issues. Despite knowing this issues, I love this lens, as it's very fast and good looking lens with a great 3D feeling. Sharpness is not everything, but we are examining sharpness in this test.
Canon EF 85mm f/1.8 USM
When I was a Canon user, I really loved this lens. It's fast and not very expensive. The results show that lens is really soft at f/1.8 and gets sharper going up at about f/4 and has some C/A issues.
Samyang 85mm T1.5
Since the Samyang lenses are manual focus, I personally prefer not to use them. I wear glasses and I don't trust my eyes, and I'm also not very fast at focusing with manual lenses. Anyway, for this lens I've used Canon 5D Mark III's 100% manual focus feature to focus on the subject. This was a most surprising result for me: the Samyang is really sharp after f/1.8. Great lens for the price, but just not one for me.
Sony FE 85mm f/1.4 GM
Sony 85mm is also a very new lens. Sony is the leading company in the mirrorless segment and they know that they need to produce more and more lenses everyday and their GM series is the best lenses Sony have. When we look at the results, at f/1.4 it is a little bit soft but gets sharper at f/1.8 and stays sharp. I found this lenses behaviour very close to Sigma 85mm Art, but the price is not the same. But again, Sony 85mm is a great lens for Sony mirrorless users who don't want to use adapters on their bodies.
85mm Lens Comparison
We can see the difference between the results if they're arranged next to each other. I've left out the Sony here, but it's pretty similar to the Sigma 85mm Art.
As you can see below, Nikon 85mm f/1.4G is the best lens at largest apertures, Sigma is behind, and the softest one is Samyang.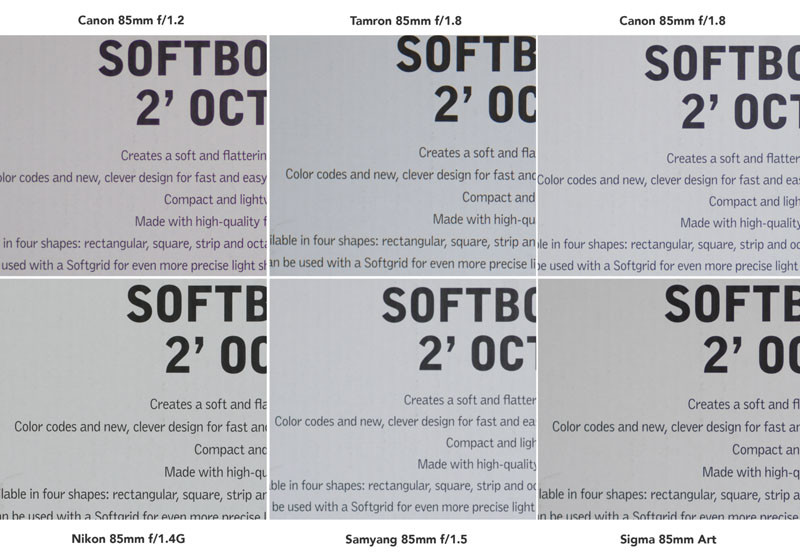 Let's now compare the lenses at f/1.8. Closing down the most expensive lenses, we expect to see better results. Nikon, Sigma and Samyang are really very sharp, hard to distinguish, and softest one seems to be Tamron.
Lastly, I compared all the lenses at f/2.8. We expect nearly the best results, and all the lenses are really sharp now. The Canon 85mm f/1.8 seems like the softest one.
Lens Bokeh Tests
I've than tested these lenses on Nikon D750 for their bokeh performances:
1. Nikon 85mm f/1.4G
2. Sigma 85mm f/1.4 Art
3. Tamron 85mm 1.8VC
Especially in portrait photography, the background has to be darker than the foreground and shouldn't be annoying. The 50mm f/1.8 is a good lens that can do a shallow depth of field at f/1.8, but it has a bad bokeh quality. When we look at the example pictures above, the Nikon and Sigma are nearly the same. Tamron is also good, but again it's not a competitor in this segment.
Conclusion
If you have the "Which 85mm should I buy?" question on your mind, I hope that this article shows you the way. First of all we again see that f/1.8 lenses can never beat f/1.4 lenses in any point. I often get asked: "Is it worth buying an f/1.4 lens?". My answer is a big yes.
Let's get to our main topic, the "Sigma 85mm Art". There's no question, this is a great lens. The competitors are all more expensive than the Sigma, but Sigma nearly achieves the same performance at all apertures. The bokeh quality is also great.
Pros
– Very sharp, no C/A issues
– Build quality, optical performance
– Good looking
– Very fast
Cons
– Big and heavy
---
About the author: Tahir Yıldız is a photographer based in Istanbul, Turkey. You can find more of his work and writing on his website, Facebook, Twitter, Instagram, and 500px. This article was also published here.