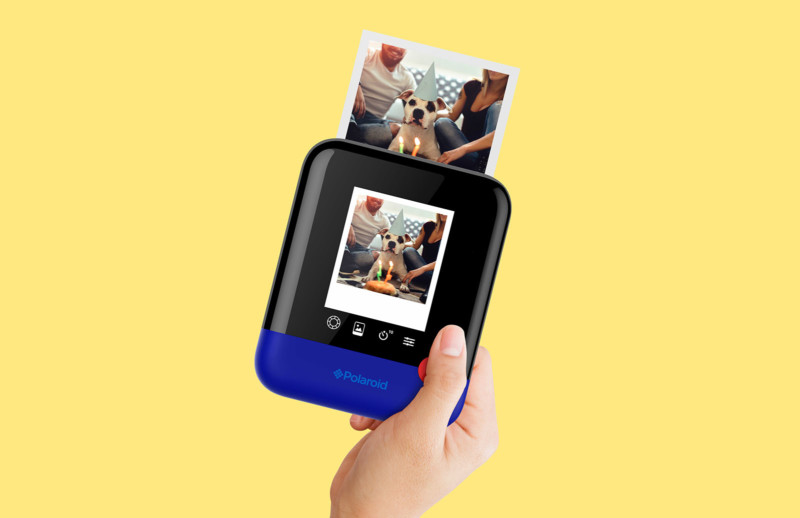 Polaroid today announced the Polaroid Pop, a new digital instant camera that creates instant photos with the look of classic 3×4-inch Polaroid pictures with the iconic white borders.
"Polaroid is celebrating its 80th anniversary in 2017 and we could not think of a better way to kick-off this milestone year than with the debut of the Polaroid Pop instant digital camera at CES 2017," says Polaroid CEO Scott W. Hardy. "Perfectly blending nostalgia with modern design and functionality, the Polaroid Pop embodies the brand's 80-year history; staying true to the Polaroid core values of sharing, instant, fun and ease-of-use, while pushing the envelope with a fresh form factor and the latest technology."
Unlike classic Polaroid cameras and pictures of old, the new Polaroid Pop uses ZINK Zero Ink technology with embedded dye crystals instead of traditional instant chemicals. Resulting photos measure 3.5×4.25 inches with the border included.
In addition to shooting and printing instant photos, the Polaroid Pop can be used like an ordinary digital camera. There's a 3.97-inch touchscreen LCD on the back, a dual LED flash on the front, a 20-megapixel CMOS sensor at the core, as well as features such as image stabilization, 1080p HD video, and microSD card support.
Other specs and features include Wi-Fi/Bluetooth connectivity, a companion (and free) Polaroid Print app, a self-timer, and three color modes (black and white, color, and vintage sepia).
The Polaroid Pop will be available in the 4th quarter of 2017. Pricing and availability have yet to be announced.