After a winter storm hit the Lake Ontario region last weekend, photographer John Kucko was tipped off about a house on the lake shore that had gotten encased in icicles and ice sheets. Kucko paid a visit and shot a set of photos showing the unusual sight.
The house in Webster, New York, sits just 20 feet from the shores of Lake Ontario, Colossal reports, and it was pummeled by waves and frigid 81mph winds.
"Some parts look apocalyptic up there," Kucko writes. "The violent wind we've had the last five days has taken a toll."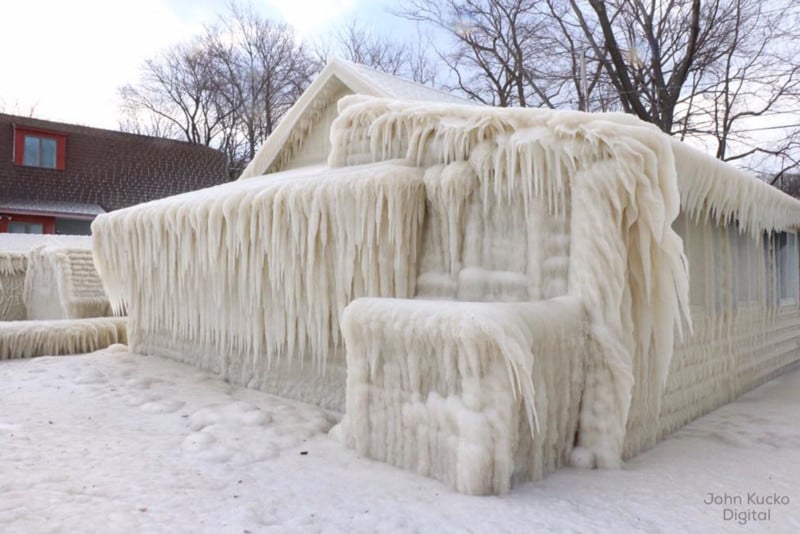 Kucko's photos were shot with a Canon T6i. After the images were used by several major news networks, people began accusing him of spraying water or foam on the house to create the scene.
"Got a good laugh when someone accused me of hosing down the house to create this viral sensation," Kucko says. "Not true! This is very much real. I'm a former TV sports anchor who, after 30 years, switched to pursue my passion for digital content."
Kucko is an afternoon anchor at a local CBS station. After receiving the tip on Facebook with no location information, the photographer scoured 40 miles of Lake Ontario shoreline in Google Earth to find the house.
"As it turned out, it's about 200 yards away from where I shoot summer sunsets on a nightly basis," he writes.