Photographer Dale Sharpe is a determined guy. It took two rings and two trips to the arctic circle, but he finally got engaged to the one person he loves, capturing the epic moment on camera while the northern lights danced above their heads.
Sharpe and his sweetheart, Karlie Russell, are both nature photographers who do a lot of traveling together. So when it came time to pop the question, Sharpe knew he had to do it under the northern lights. Unfortunately, fate kept getting in the way.
During the couple's first trip to the arctic, Russell unknowingly threw away her own engagement ring, which Sharpe had hidden in a bottle in her luggage, because her bags were too heavy. But Sharpe stayed the course, saved up for another ring, hid it in his own medical kit this time, and planned another trip through Iceland, Norway, and Finland.
Together, they captured some spectacular arctic scenes—sunsets, silhouettes in front of the northern lights, and more—until the moment came for Sharpe to do the deed. He set up the camera under the pretense of taking a self portrait, dropped down on one knee under what he calls "the most amazing display of color in the Aurora that we've ever seen," and popped the question.
All the while, his Nikon was firing away, capturing the magical moment for posterity: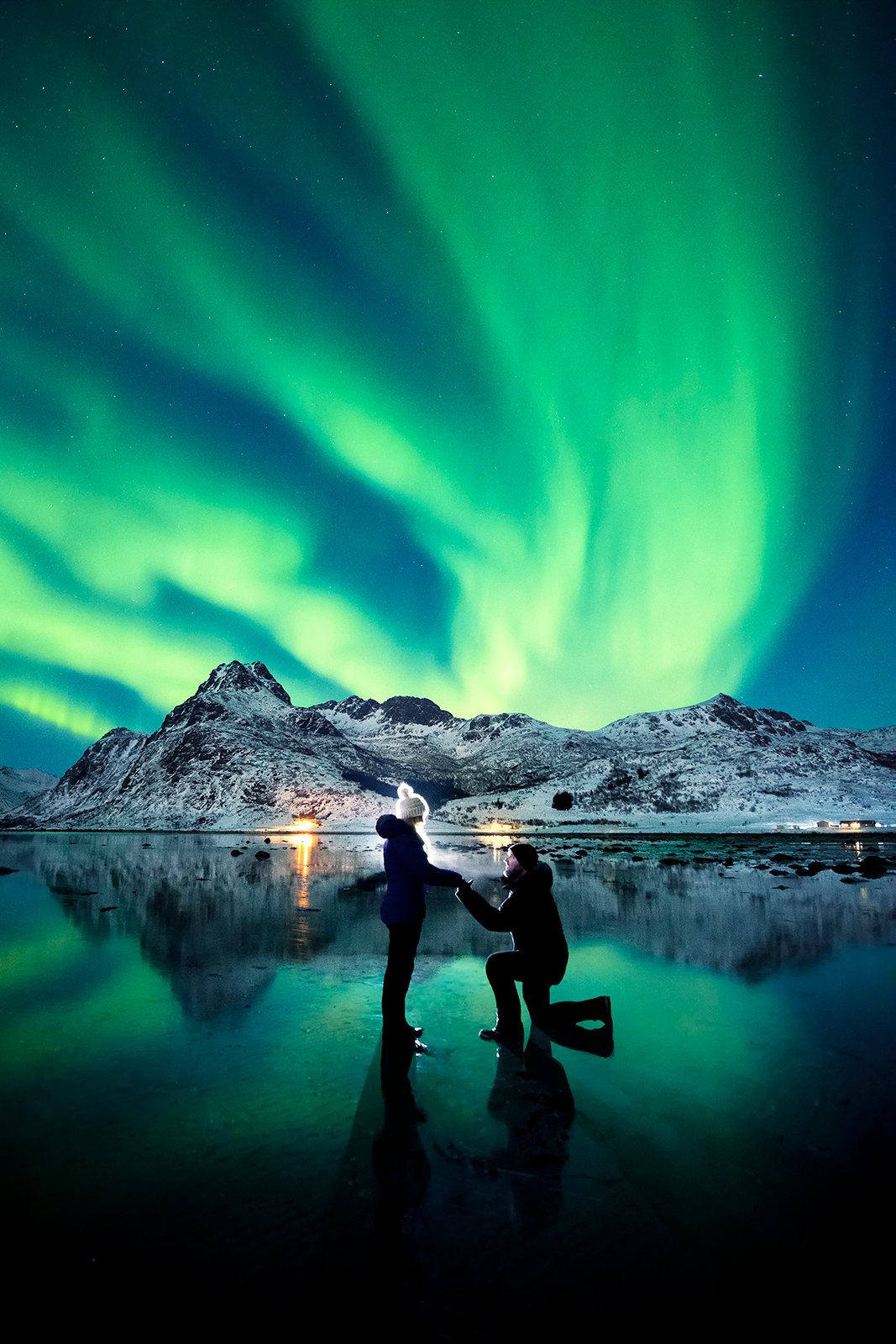 Russell, of course, said yes.
Dale tells PetaPixel the photo was taken under a waxing gibbous moon, which allowed him to shoot 1.5-2.5 second exposures at f/2.8 and ISO 4000. "I had the camera on continuous shooting with a remote on the Nikon D810 and 14-24mm f/2.8 lens," he said. "There were a lot of images that were unusable due to movement, and this one is still a little blurry but it was the best of the bunch!"
This is one of the few engagement photos that's truly worthy of the term "epic," and has quickly become the most popular photo on the the couple's Instagram account with over 9,000 likes and 525 congratulatory comments.
To follow this special couple as they continue exploring and capturing the world, head over to the DK Photography website or follow David and Karlie on Facebook and Instagram.
(via Shutterbug)
---
Image credits: Photographs by Dale Sharpe/DK Photography and used with permission.