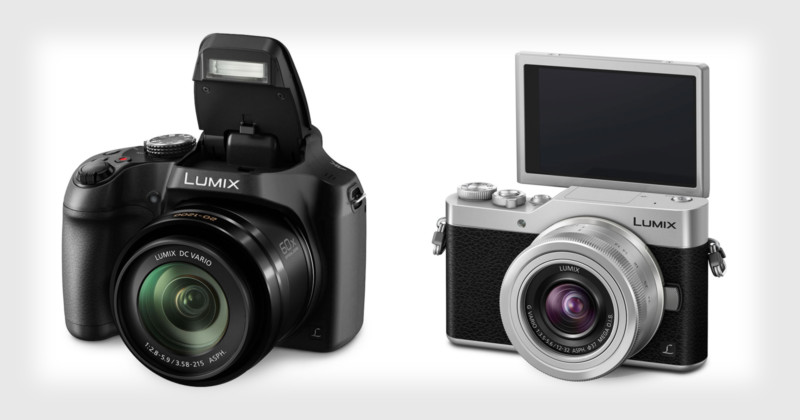 The flagship GH5 was Panasonic's big reveal of CES (and probably 2017), but the company didn't stop there. Also revealed today is the 4K capable compact GX850 and the 60x superzoom FZ80, both powerful cameras in their own right.
Neither of these cameras carry the kind of clout of a camera like the GH5, but Panasonic's smaller offerings from CES are still worth a look if 4K/60p and a $2,000 price tag aren't really your thing. Let's start with the smaller GX850.
Panasonic Lumix DMC-GX850
The GX850—also known as the GX800 and GF9, depending on the market you find yourself in—is the love child of Panasonic's GM and GF lines. The "sleek and stylish" interchangeable lens compact is the smallest Panasonic camera to boast both 4K/30P video and 4K Photo mode.
At its core is a 16MP Live MOS sensor with no low-pass filter and a Venus Engine processor; together, these promise serious performance out of the pint sized mirrorless camera. Or, in Panasonic's own words:
crisp, high-resolution images in fine details with high-contrast, [and] impressive color reproduction.
Don't worry though, Panasonic didn't focus exclusively on photo quality here, there are selfie features too. The 3-inch 1.04 million dot touchscreen LCD flips a full 180 degrees, switching the camera into a Self Shot mode designed to make taking selfies that much easier. Here's a closer look at the new camera:
Other features found in the GX850 include built-in WiFi (no NFC), 5fps burst mode with continuous AF, Focus Stacking, Post Focus and Light Composition features, and a microSD card slot to save space.
The new compact camera will hit store shelves in February for $550 when bundled with the Lumix G Vario 12-32mm f/3.5-5.6 Lens. You can already pre-order the camera in black or sliver over at B&H Photo.
Panasonic Lumix DMC-FZ80
Like the GX850, the FZ80 isn't always called the FZ80. In some markets, the same camera goes by FZ82. Regardless, we're talking about the same camera, a superzoom that boasts 4K video and 4K Photo modes in addition to its crazy 60x 20-1200mm f/2.8-5.9 zoom lens.
These resolution feats are possible thanks to a new 18.1MP Live MOS sensor and the (you guessed it) Venus Engine processor you'll find under the hood. Using these two, the superzoom can shoot 4K/30p for up to 15 minutes at one time. And if you want to slow time down, you can drop the resolution down to 1280 x 720 for 120fps or 640 x 480 for 240fps shooting.
Other features include 6fps burst shooting with continuous AF (10 with AF locked), Panasonic's "high-precision" Depth From Defocus auto focus technology, built-in WiFi, and fun in-camera features like Post Focus, Focus Stacking, Time Lapse, and Stop Motion Animation.
Here's a closer look at the FZ80:
The FZ80 is scheduled to ship in March for $400. If you're interested, you can learn more or pre-order yours over at B&H Photo.