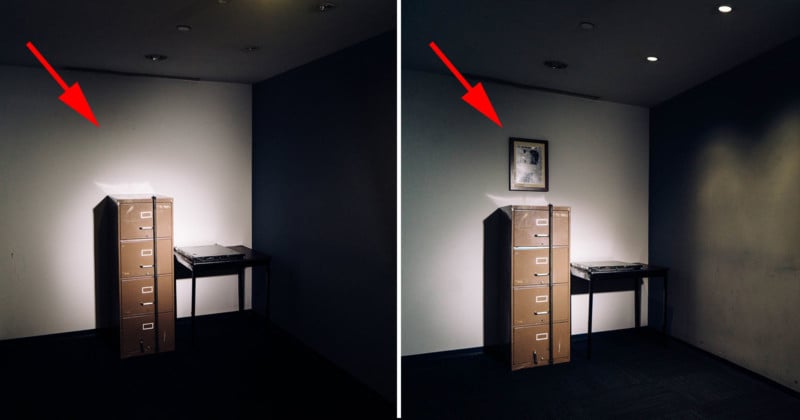 An interesting story about ethics in photojournalism has emerged today: the New York Times has published a correction to a major story, saying that the original main photo had a picture frame removed from the scene because it was causing glare.
On Tuesday, the Times published a front page story titled, "The Perfect Weapon: How Russian Cyberpower Invaded the U.S." The article featured a photo by Times photojournalist Justin T. Gellerson that shows a filing cabinet involved in the Watergate burglary, sitting in the basement of the Democratic National Committee's headquarters:
The caption reads: "A filing cabinet broken into in 1972 as part of the Watergate burglary now sits beside a computer server that Russian hackers breached during the 2016 presidential campaign, both now on display in the basement of the Democratic National Committee's headquarters in Washington."
The Washingtonian reports that shortly after the story and photo were published, editors noticed a problem: Gellerson had removed a picture frame (containing the Washington Post front page story on Watergate) from above the filing cabinet.
No, the photo wasn't Photoshopped: it turns out Gellerson had physically removed the picture frame from the wall because it had been causing distracting glare from his strobe hitting the glass.
Gellerson's original assignment was to capture the atmosphere of that particular room at the DNC in a "poetic" way if possible, and he says he didn't realize that the newspaper was asking for a news photograph.
"I really just wanted to nail it with this file cabinet," Gellerson tells the Washingtonian. "I approached it like I was taking a still life."
Although it may seem like an insignificant change that doesn't affect the story, organizations such as the National Press Photographers Association have Code of Ethics that prohibit photographers from doing anything to alter scenes or influence events.
So, the New York Times had Gellerson rush back to the DNC headquarters and rephotograph the exact same scene, except with the picture frame in place. The Web article was then updated with the new photo, which also made it in time for the physical copy of the Times.
At the bottom of the Internet article is now this correction:
Editors' Note: An earlier version of the main photograph with this article, of a filing cabinet and computer at the Democratic National Committee headquarters, should not have been published. The photographer had removed a framed image from the wall over the filing cabinet — showing a Washington Post Watergate front page — because it was causing glare with the lighting. The new version shows the scene as it normally appears, with the framed newspaper page in place.
What's your opinion on the photojournalism ethics of the original photo?
What is your opinion of the original photo with the frame removed?