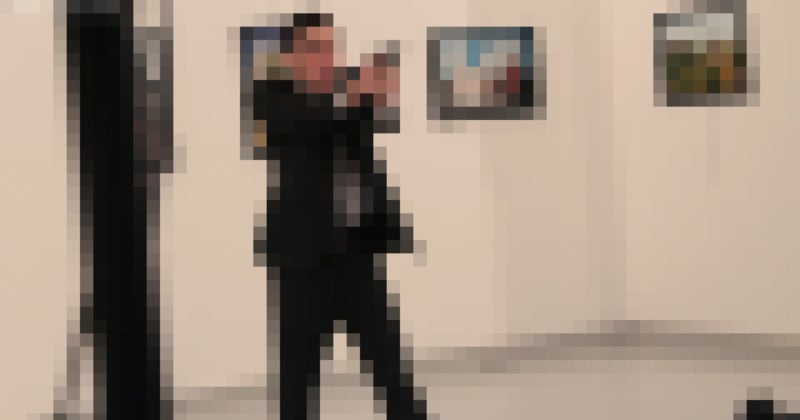 AP photographer Burhan Ozbilici is a photojournalist incredibly dedicated to his job; so dedicated, in fact, that he kept on taking pictures when a gunman shot and killed Russian ambassador Andrei Karlov at a photo gallery in Ankara, Turkey. The photos he captured have instantly risen to iconic status.
---
Warning: The images in this post might be offensive or upsetting to some, as they depict both the gunman and his victim. Proceed with caution.
---
Ozbilici was working the event, but instead of putting his camera down and ducking for cover when 22-year-old Turkish police man Mevlut Mert Altintas opened fire on the Russian ambassador, he kept working. Ozbilici snapped several photos of the enraged gunman as he paced around his victim and yelled at the assembled crowd, at one point shooting Karlov again at close range.
The photos he captured have spread across the world like wildfire, prompting praise from NBC Nightly News Social Editor Micah Grimes:
AP photographer Burhan Ozbilici continued his work in the face of this. pic.twitter.com/mGdH37ZMei

— Micah Grimes (@MicahGrimes) December 19, 2016
The AP itself:
An AP photographer was in the audience during the attack on Russia's ambassador to Turkey – the latest here: https://t.co/QNlIA8e2Eu pic.twitter.com/EBPa5izHsi

— AP Images (@AP_Images) December 19, 2016
And the Los Angeles Times, who interviewed Ozbilici:
A photographer's eyewitness account of Russian ambassador's assassination: "I'm a journalist. I have to do my work." https://t.co/kQfkQEelE8 pic.twitter.com/mQ8hnTJdyY

— Los Angeles Times (@latimes) December 20, 2016
Speaking with the LA Times, Ozbilici explained why and how he was able to keep on taking pictures, even the killer paced in front of him, condemning Russia for their role in Syria.
"I was, of course, fearful and knew of the danger if the gunman turned toward me. But I advanced a little and photographed the man as he hectored his desperate, captive audience," Ozbilici tells the LA newspaper. "I was thinking: 'I'm here. Even if I get hit and injured, or killed, I'm a journalist. I have to do my work. I could run away without making any photos… But I wouldn't have a proper answer if people later ask me: 'Why didn't you take pictures?'"
To see more of the photos Ozbilici captured at the art gallery or hear his account of this terrifying moment, visit his LA Times interview or read the AP's own coverage of the incident here.