"Yet to an obsessive his obsession always seems to be of the nature of things and so is not recognized by what it is." Those words, written by art critic John Berger in his book Ways of Seeing, annotate one part of his understanding of the history of oil paintings: it's obsessive tendencies toward showmanship of what one has, and the relationship between property and art.
A wealthy patron of the arts may have commissioned an oil painter to depict their life by painting their property – a room in their house full of their many collectors items. Of course, embellishment of the truth was allowed because the important idea was to create a sense of envy in the spectator. The subject of the painting wished simply to convey a sense of dominance; a sense of superiority.
Now we look at oil paintings in museums and galleries and sit in awe of the technical prowess provided by such works. It feels so realistic, the way the light sweeps in through open windows while the scene unfolds nearly unopposed to the charismatic beauty of the world around them. The subject sits aloof to their own dominance.
Photography mimics this same sense of beauty in the mundane. Street photographers scour the streets of cities waiting for the sun to begin it's descent and create pockets of lights like a stage for their subjects. Rather than overtly attempting to convey a sense of dominance over the viewer, photographers, specifically those who walk in the documentary tradition, wish to convey their own experiences and leave them as tokens for the audience.
Honoré Daumier once said photographs describe everything and explain nothing. What a photograph describes to the viewer depends largely on who the photographer is. No two people share the same experiences in the same way. So, when a photographer encroaches on a scene, and in the instant in which they trigger the shutter, their experiences become etched into that photograph forever; like memories.
We often collect these memories – photographs – in books and albums, on gallery walls, in magazines and social media, in a nostalgic effort to relive the past. Memories are radically powerful in this form – we can learn from them and in how others absorb them. When we share photographs, we provide the viewer an opportunity for empathy. Empathy helps us to be more understanding and the more of this there is, the better the world will be.
But, it is a matter of perspective.
Point of view will always reign supreme in shaping this world. That is why the reality of it is so damning. Throughout the life of this medium the same point of view has always commanded dominance: the point of view of the straight white male.
In a history of photography class that I once took, I learned about some of the most important voices in the history of the medium. From photography's noted inventor, Louis Daguerre, to some of the most iconic photographers we can remember — Alfred Stieglitz, Paul Strand, William Eggleston, Stephen Shore, Ansel Adams — to more contemporary practitioners like Alec Soth, Bruce Gilden, David Alan Harvey, and Elliot Erwitt.
All of these names are some of the very best and I can bet that at the moment you read those names, you could visualize some of their most famous images. Eggleston's famous color images, such as that of a blue and white tricycle, paint chipping away, in front of a suburban home, evoke a feeling of enduring childhood. Adams' images whose painterly black and white quality throw the viewer into the scene – the Snake River or the Yosemite Valley – and perpetrate a sense of an infinite Eden awaiting your personal exploration.
The simple beauty in Soth's images that rival the overwhelming emotions evoked by Adams' will most definitely stand the test of time as a document of the often overlooked, the ignored, the culturally deemed insignificant aspects of modern American society. Finally, the compulsory inquisitiveness generated by the in-your-face images of Bruce Gilden – photographs of Triads on the streets of the city, wearing suits and smoking cigarettes with a mixed reaction of surprise and arrogance.
What I mean to say is, while the above mentioned photographers are unequivocally important, their voices are not the only ones that matter. Photographers like Eli Reed, Diane Arbus, Mary Ellen Mark and their contemporaries – Andre D. Wagner, Ruddy Roye, Lise Sarfati, and Chien-Chi Chang – have all been able to grasp onto their own success but are an exception.
Their voices, however, are magnificent and beautiful, poignant and descriptive. They show us a world that emanates with their experiences. Wagner's photographs, poignant moments describing everyday life in Black America. His images – like the one of a young black girl holding the hand of a nun-like figure, looking back curiously at the photographer, while two older children, presumably her siblings, walk ahead with no regard to the scene unfolding behind them – famously capture what many Americans would otherwise ignore: Black America.
Wagner's personal experience reflects throughout his images and provide us, the audience, an opportunity to reflect on what the Black experience is.
Ruddy Roye, another famous black photographer, uses portraiture, and the power of brief but intimate connections, to draw his audience into his images. A young black man dressed in a coat, wearing a hood, is standing in the middle of a cotton field with his hands up.
His eyes are locked onto the lens and pierce the image and make contact with my own. The image is a common trope – "hands up, don't shoot" the protesters say. The cotton field in which the subject stands is a testament to not only the past of Black America, but also speaks pertinently to the now.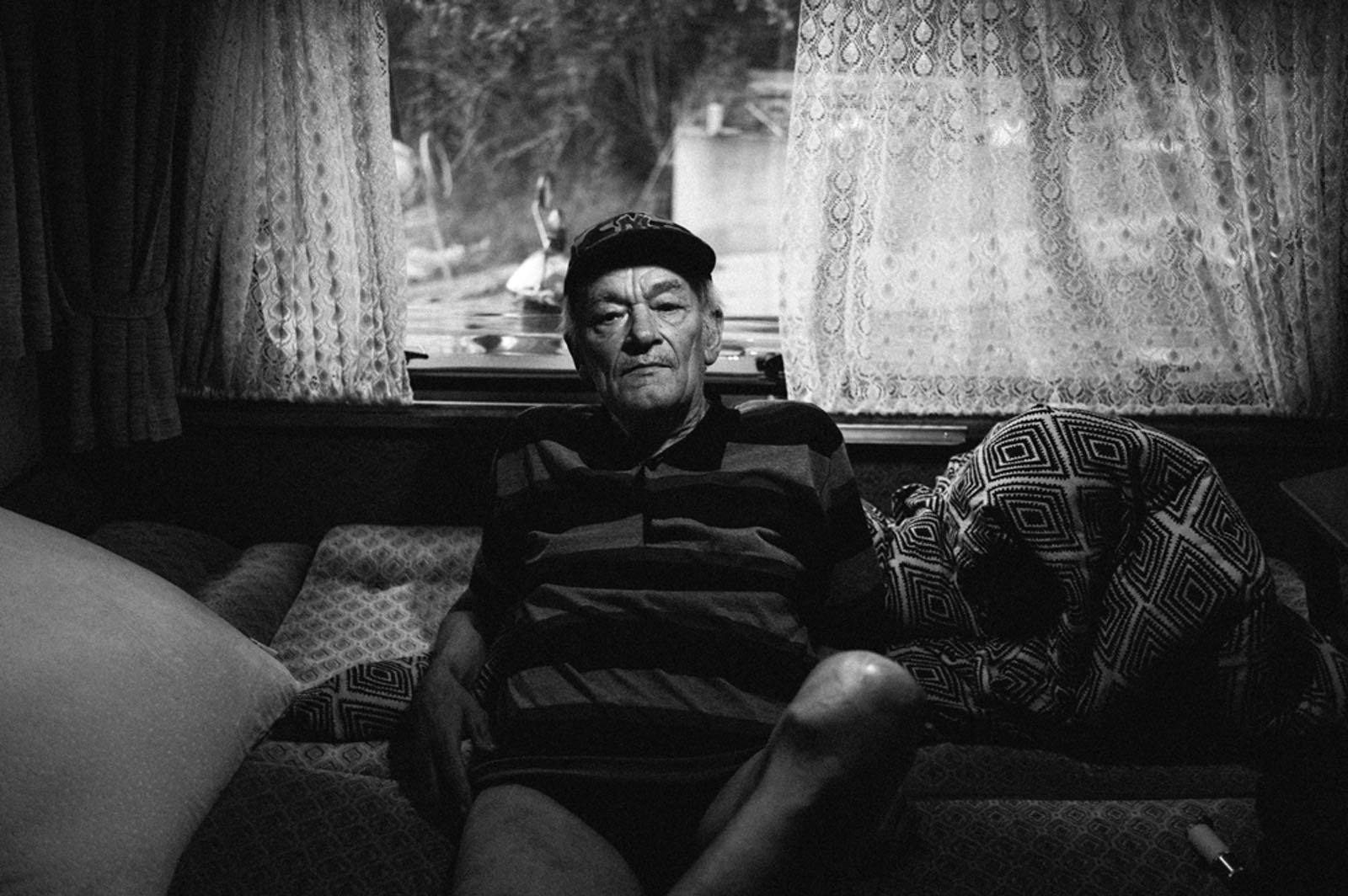 Lise Sarfati, with her beautifully poised project She, shows a side of humanity that is often ignored. The book is more than a project full of portraits of women. She is a testament to the female experience. By avoiding the common trap of depicting women in art as some form of Madonna, Sarfati draws the viewer in and allows them to experience, with her, this moment in these girls' lives.
This working method is not unique, however, to this project. Across Sarfati's bodies of work are the same themes and the same working process. Her approach is near-objective, save for her genuine interest in her subjects and their friendships, and it quickly becomes apparent that her intentions are pure. What Sarfati shows us is that her experiences, and the experiences of her subjects, are worthy. Her photography radiates with a certain stealth as she searches for the anchor in her subjects, the moments that speak to who they are and represent them, with little regard to the photographer's agenda.
Finally, Chien-Chi Chang, a Taiwanese photographer and also a member of Magnum. Chang offers a very unique perspective in his photography. Shooting in a style that, until recently, has been disregarded as amateurish and unprofessional, Chang approaches his subjects and his projects with a kind of intensity that reflects life in Asia. Heavy contrast, shadows, reflections, slow shutters – all tools he uses to help convey a sense of restlessness that many experience. When looking at his work, I get the feeling that I'm right in the middle of the scene. My head is turning quickly as I try to comprehend all that is happening around me.
These images are quickly juxtaposed with his most recent publication, Jet Lag, which features calm and well-composed black and white images of travel. There's a certain solitude in this work that you don't find in Chang's previous work that I think speaks to him at a point in his life. Is he spending less time in Asia? Is this Chang's attempt to find peace in a world outside of what he has fervently photographed since the 1990s? The contrast we see between this work speaks to his unique point of view as an outsider. It speaks to what it is like to see the world from a Taiwanese point of view and helps the viewer to better understand the complexities of our world.
But why must we reduce the accomplishments, the vision, of minority photographers to just one or two names to represent them all? True, it is, that the widespread availability of the photographic method has led to an uprising, regardless of race or ethnicity. Until recently, accessibility to professional photographic equipment was a major roadblock to the aspiring photographer. The high cost of materials along with the need for proper training on use of cameras, film and darkroom equipment built a barrier between those who could afford it and those who could not.
What becomes obvious very quickly is that the demographic who was able to afford an interest in photography is the demographic who maintains most of the praise in the photography world still to this day. This creates a narrow perspective that is representative of only one experience. Even if photography were a truth-telling medium that exposed to us our world for what it really is, we cannot honestly believe that what we are shown speaks to the diverse reality of the billions of people on this planet. The single voice that demands we look at the world in one way is the same that, for thousands of years, has entrenched their dominance the world over.
But that way of thinking is no longer valid. With the democratization of photography – through mediums like Instagram and Snapchat – we have slowly started to zoom out and look at the world in a more interesting way. This willingness to understand the world around us from a less traditional approach will start to bridge the gap in our understanding of the "other". Knowing that our experiences are each as vivid and intense as the person's next to us provides us with compassion and empathy for their realities.
By recognizing the work of photographers who do not fit the standard "straight-white-male" demographic, we see the world in a truer way. There are many perspectives in the world, billions, and it is imperative to our society, in understanding the human condition, that we approach the world from as many as we can.
One point of view is not more valuable than another. We all live life with the same density of experience. –Teju Cole
---
You can find the archives of Alex Thompson's column here.
---
About the author: Alex Thompson is a documentary photographer living in California's Central Valley. The opinions expressed in this article are solely those of the author. His work focuses around environmental issues and the social consequences of environmental degradation. His work has been featured in publications like LA Weekly and The Guardian US and he is currently working on long term projects documenting the effect of extraction in Wyoming and life in communities along the SF Bay-Delta. You can find his work at www.alexthompsonphoto.com or on Instagram @alexthompsonphoto.